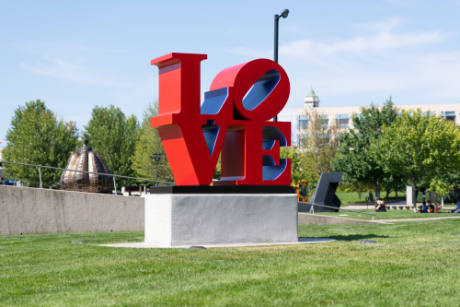 LOVE
Medium:
Polychrome aluminum
Dimensions:
Overall (sculpture): 96 × 96 × 48 in., 1300 lb. (243.8 × 243.8 × 121.9 cm., 589.7 kg.)
Overall (sculpture with base): 102 × 98 × 50 in., 1550 lb. (259.1 × 248.9 × 127 cm., 703.1 kg.)
Credit Line:
Des Moines Art Center Permanent Collections; Purchased with funds from John and Mary Pappajohn, 2019.32
Accession number:
2019.32
Classification:
sculpture
Label Text
An icon of American modern art, LOVE, 1969-1999, is the signature work of the artist. Begining in 1964, Indiana began to create images and objects using the word LOVE. He maintained that a single word could be a viable subject of art by harnessing its emotional charge and the power of language. The artist states, "Here the quartered field is filled with the four letters of love, as compactly and economically as possible, but with interest in the circle still called into mind by the tilted 'o'." With the universality of the word and subject in mind, The Museum of Modern Art selected his image of LOVE as its Christmas card in 1965, and the US Postal Service created a stamp with the image in 1973. It was quickly adopted by the "love generation" and enjoyed mass appeal, which continues today. Other works in the edition of this particular format and colors are in the San Francisco Museum of Modern Art and Tate Modern in London. "The Art Center is forever grateful to receive this gift from John and Mary Pappajohn for the enjoyment of the community," said Des Moines Art Center Director Jeff Fleming. "LOVE" -- I cannot imagine a more fitting gift as we celebrate the 10th anniversary of the John and Mary Pappajohn Sculpture Park this year."

Marks
C 1966-1999 R INDIANA 3/5 (cast on inner bottom edge of letter E); MILGO BROOKLYN NY (cast on inner bottom edge of letter E)

Inscription
66-99-315 2 (underside of base, written in black ink)

Paper/Support
Base weighs 250 lbs

Edition
Edition of five and two artist proffs