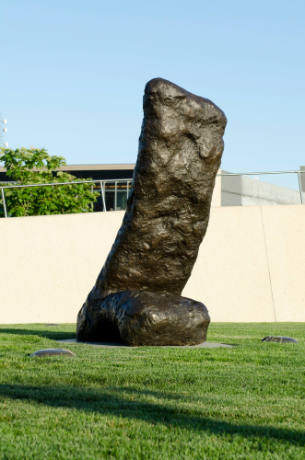 Gymnast III
Dimensions:
Overall: 87 x 58 x 32 in., 2000 lb. (221 x 147.3 x 81.3 cm., 907.2 kg.)
Credit Line:
Des Moines Art Center Permanent Collections; Gift of John and Mary Pappajohn, 2015.26
Accession number:
2015.26
Classification:
sculpture
Label Text
This abstract, rough-surfaced sculpture is inspired by the movement of the human body-specifically gymnastics, as the title suggests. Created in 1985, the year after the Los Angeles Olympics, William Tucker cites the athletes on the rings and parallel bars as a visual source for this work, with a particular interest in the way their bodies become simplified into two moving and rigid halves. Gymnast III is not concerned with rendering the body realistically or the nuances of skin, muscle, and bone. Instead, Tucker attempts to manifest the body's physical sensations, such as fatigue, pain, exertion, stretching, or the force of hard landing. The work resides in a space between object and gesture, suggesting the body's most elemental shapes as well as its most visceral feelings.

Exhibition History
David McKee Gallery, "Gymnast", November 1985, cat. #6 (illustrated)