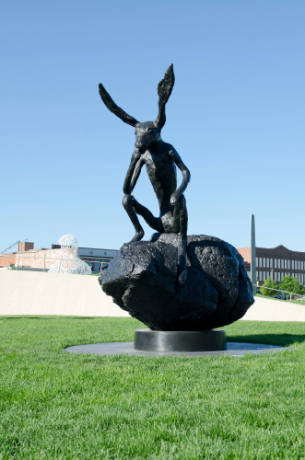 Thinker on a Rock
Dimensions:
Overall: 156 x 79 x 103 in., 2400 lb. (396.2 x 200.7 x 261.6 cm., 1088.6 kg.)
Credit Line:
Des Moines Art Center Permanent Collections; Gift of John and Mary Pappajohn, 2015.4
Classification:
sculpture
Copyright:
Bridgeman Images
Label Text
Barry Flanagan is best known for his dynamic, often monumental, bronze hares performing all variety of human feats from thinking to playing music to using technology. Of his use of the rabbit Flanagan said, "The idea of the hare as an alter ego evolved. It wasn't inevitable when I started. But once you abstract from the human like that, it opens a window in the mind-it allows your imagination to roam." In many cultures, the hare or rabbit has mythological significance as a trickster or mischief-maker, an aspect that also appealed to Flanagan. Thinker on a Rock riffs on French artist Auguste Rodin's The Thinker, a sculpture from the late 19th century of the poet Dante Alighieri contemplating his work The Divine Comedy (1302-1321). In Flanagan's version, the writer is replaced with the hare engaged in the act of earnest contemplation resulting in a light-hearted and humorous work. The quirky tone set forth by the hare presents an intriguing contradiction to the seriousness of the traditional technique-bronze casting. Just as Rodin's Thinker was cast in metal, so is Flanagan's, which challenges the classic concept of the heroic bronze figure.