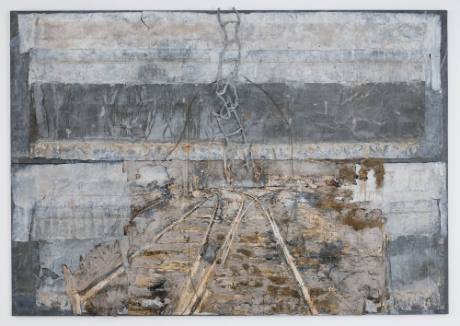 Untitled
Medium:
Oil, acrylic, emulsion, ash, lead objects, ballet shoes, and treated lead pieces on canvas
Dimensions:
Canvas (both panels): 153 1/2 × 220 1/2 × 10 in. (389.9 × 560.1 × 25.4 cm.)
Credit Line:
Purchased with funds from the Coffin Fine Arts Trust; Nathan Emory Coffin Collection of the Des Moines Art Center, 1988.12.a-.b
Accession number:
1988.12.a-.b
Label Text
This work is typical of Kiefer's massive, mixed media works that blend abstraction with realism and found objects. His subject matter is often Germany's problematic history and the role of the artist in the evolution of a more humane world. The most distinct painted form here is the railroad tracks, a direct reference to the Holocaust. Text incorporated into the work includes the German words for "evening" and "Western World." The peeling paint, corroded metal, and ash-caked surface give Untitled the appearance of an object ravaged and reworked over a long period of struggle. However, Kiefer offers the ladder and ballet shoes as symbols of aspiration or redemption. Lead, the metal alchemists sought to turn to gold, is used extensively in the painting as a further reference to the transformative power of art.
Born in Germany in 1945, Anselm Kiefer is internationally recognized for his paintings dealing with issues of German history, destruction and redemption, and the role of the artist. In 1966, Kiefer abandoned the study of law and committed his energy to art. Source: News, March/April 1989.

Exhibition History
"Carnegie International," The Carnegie Museum of Art, Pittsburg, PA, Nov. 5, 1988 - Jan. 22, 1989

Published References
Evan Roth, "Adding to Collections: Recording the Past, Exploring the Future," MUSEUM NEWS, July/Aug. 1989, color ill. p.35

"Carnegie International," The Carnegie Museum of Art, Pittsburgh, 1988, exh. cat. color ill. p.175

AN UNCOMMON VISION: THE DES MOINES ART CENTER, Des Moines Art Center, 1998, ref. & color detail p.154, color ill. p.155