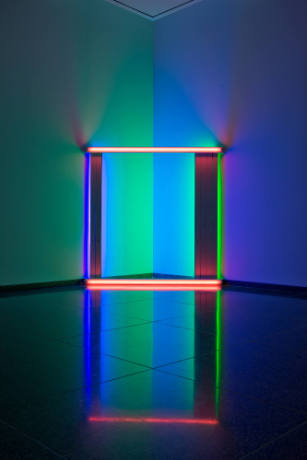 Untitled (For Ellen)
Medium:
Fluorescent lights and painted metal
Dimensions:
Overall: 96 x 96 x 10 in. (243.8 x 243.8 x 25.4 cm.)
Credit Line:
Des Moines Art Center Permanent Collections; Purchased with funds from the Edmundson Art Foundation, Inc., 1988.2
Classification:
sculpture
Label Text
Dan Flavin began working with the corner format in the late sixties as an extension of his interest in working with light in an architectural space. The fluorescent tubes not only describe an area but the colored light further delineates the corner and becomes planes and volumes of color and light which occupy it. The light is intense at the outer edges closer to the light source, and gradually changes in intensity and hue as it diffuses. Flavin is oten associated with Minimalism because of his use of simple, geometric forms and unadorned industrial materials. Source: News, July/August/September 1988
Flavin is linked to Minimalism through his use of industrial materials, concern with architectural space, and the invisibility of the artist's hand in the finished work. However, his use of light adds a subjective dimension not found in Judd's metal boxes or LeWitt's ordered cubes. Activating the space around it, Untitled (For Ellen) draws viewers into its corner, and dictates the darkness of the room. Colored light, the work's primary medium, has a sensory rather than physical presence, and is temporary and mutable. The viewer's contemplative or emotional response to the colorful glow depends on electricity, which turned off would reveal a structure of ordinary metal and light bulbs.

Published References
AN UNCOMMON VISION: THE DES MOINES ART CENTER, Des Moines Art Center, 1998, ref. p.111, color ill. pp.110 & 111