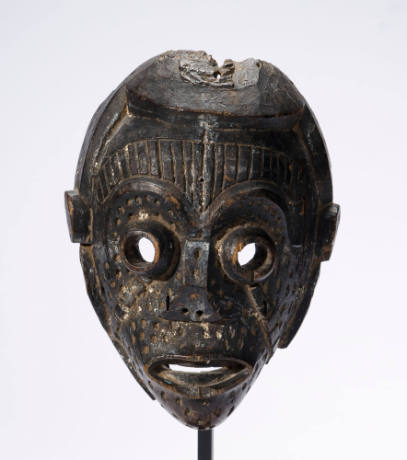 Okoroshi Ojo Mask
Dimensions:
Overall: 9 x 6 1/2 x 4 in. (22.9 x 16.5 x 10.2 cm.)
Credit Line:
Des Moines Art Center; Julian and Irma Brody African Art Collection, 1980.22
Accession number:
1980.22
Classification:
African/Oceanic/Pre-Columbian
Label Text
The blackened face, the bulging tube-like eyes, the deep facial cuts and the diagonal markings extending downward from the eyes are characteristic of Ekpo masks. Ekpo ('ancestor") is a secret society of the Ibibio and other neighboring tribes, and its exercise of judicial authority makes it perhaps the most dominant and powerful of the societies. The highly sculptural qualities of the mask create a play of contrasting light and shadow over its textured surface. The mask is made of wood and retains some chalk-like rubbings. Source: Bulletin, January-February, 1981

Exhibition History
African Art from the Collection of Julian and Irma Brody" Des Moines Art Center, Mar. 18- Apr. 20, 1975. cat. no. 70, repro.

Published References
Supplement to the March issue of Gazette des Beaux Arts in the article "La Chronique des Arts-- Principales Acquisitions des Musees en 1980" repro. p. 46