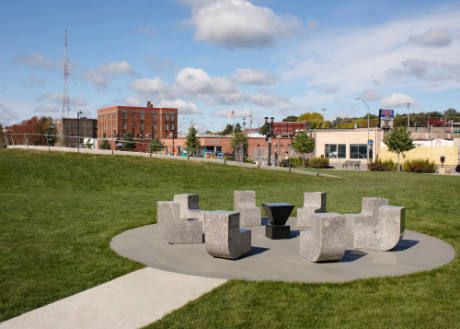 Café Table 1
Date:
designed 1984, fabricated 1992
Medium:
Polished Absolute black granite
Dimensions:
Overall: 28 × 22 × 22 in. (71.1 × 55.9 × 55.9 cm.)
Credit Line:
Des Moines Art Center Permanent Collections; Gift of John and Mary Pappajohn, 2015.5
Classification:
sculpture
Label Text
Like many artists of the 1960s, Scott Burton was interested in blurring the line between art and everyday life. His approach to achieving this was to make sculptures that function as furniture and place these pieces in public spaces where people would be invited to use them. His artwork begins with refined, immaculately constructed furniture like this table and chairs, but only becomes complete when visitors actually use the pieces. Thus, Seating for Eight and Café Table I are the only sculptures in the park that visitors are allowed to touch. Two distinct artworks that have been combined together, here they function as a central resting place in the park. The cool, smooth, granite seats form a democratic circle as opposed to a hierarchical "head of the table" arrangement. The sleek lines and balanced curves of the work reveal Burton's elegant sense of design, as well as the influence of the Minimalist art movement of the 1960s and 70s. Burton was also conscious of the inherent beauty of the marble he chose as his medium, polishing it to a high sheen that highlights the grain and color of the stone.