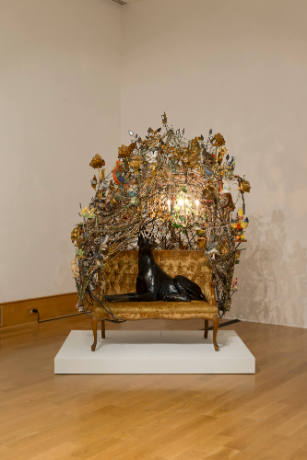 Rescue
Medium:
Mixed media including ceramic birds, metal flowers, ceramic Doberman, vintage settee, light fixture
Dimensions:
Overall: 88 × 72 × 44 in. (223.5 × 182.9 × 111.8 cm.)
Credit Line:
Des Moines Art Center Permanent Collections; Purchased with funds from the Edmundson Art Foundation, Inc., 2015.29.a-.b
Accession number:
2015.29.a-.b
Classification:
sculpture
Label Text
Moving away from his iconic Sound Suits, the recent work of Chicago-based artist Nick Cave uses racist memorabilia as a way of addressing deeply embedded issues surrounding the aftereffects of colonialism and slavery in American culture. Works like Rescue, 2013, an important transitional piece for the artist, spark a conversation on power and social status through the repurposing of inexpensive decorative objects such as this ceramic Doberman which is seated atop an elegant settee and enshrined in a plethora of thrift shop birds. Speaking about Rescue, Cave recounts, "[the Doberman] was the first dog that I found, and it had a colonial quality to its surface application. I began to think about settees, and I became interested in the idea of a dog lying on a settee. This idea led me to think about the role of dogs in paintings, which led me to think about dogs as status symbols and as protectors and guardians. So finding the Doberman opened up this array of interesting parallels, interesting possibilities that were sort of romanticized. Source: News, Jul Aug Sep 2015

Exhibition History
Nick Cave: Sojourn, Denver Art Museum; Denver, CO. June 8 - September 22, 2013.