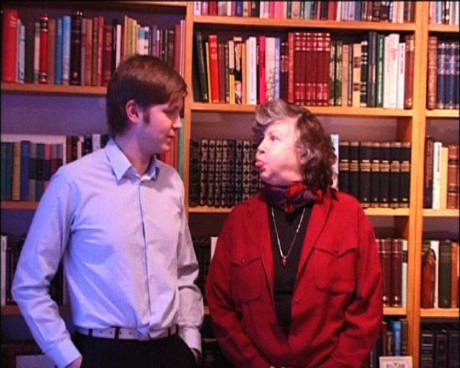 Me and My Mother 1
Dimensions:
Running Time: 10min.
Credit Line:
Des Moines Art Center Permanent Collections; Purchased with funds from Kenneth E. Hartman by exchange, 2010.113
Accession number:
2010.113
Label Text
The Icelandic artist is fascinated by the tragicomic spectacle of human experience. Known primarily for his performance work, Kjartansson taps into nostalgic imagery from bygone eras of theater, television, music, and art, allowing him to blur the border between reality and fiction. In 2009, Kjartansson became the youngest artist to represent Iceland at the Venice Biennale where he merged his continued interest in durational performane with the classical practice of portraiture by setting out to create a painting for each day the Biennale was on view. Me and My Mother I is an early piece in which the artist instructed his mother to repeatedly spit in his face for ten minutes. Humorous yet painful to watch, the piece recalls the tortured durational performances of Marina Abramovic, albeit with an overtly comical Freudian twist. The piece also functions as a double portrait and unconventional homage to his mother Gudrun Asmundsdottir, a well-repected actor in Iceland. Source: News, October November December 2010.

Edition
5/6 from an edition of 6 and 2 AP