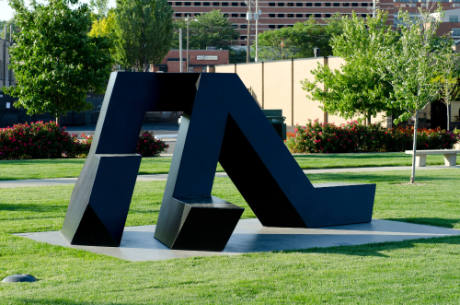 Willy
Date:
1962, fabricated 2005
Dimensions:
Overall: 91 1/4 × 224 × 135 in., 4000 lb. (231.8 × 569 × 342.9 cm., 1814.4 kg.)
Credit Line:
Des Moines Art Center Permanent Collections; Gift of John and Mary Pappajohn, 2015.25
Accession number:
2015.25
Classification:
sculpture
Label Text
Tony Smith's earliest sculptures date to his days spent quarantined from his family while he recovered from tuberculosis. The ample supply of medicine boxes used to treat his illness provided the medium for his small scale models and his imagination. Smith's long career in architecture was also highly influential on his output as a sculptor, evidenced most directly in the large scale of his work and the building-like manner in which his shapes interact with their surrounding space. Willy is one of Smith's important early large-scale works and masterfully combines abstract geometric forms with human characteristics. Willy involves complex polyhedral shapes. The flat black planes of steel twist into each other, suggesting an anthropomorphic (or human) form. The title comes from a Samuel Beckett play Happy Days (1961), in which the character "Willie" crawls submissively around his wife, who is buried waist deep in mud.

Inscription
On metal plate on bottom of sculpture:

T. SMITH
WILLY
1962
A.P.
LIPPINCOTT/
MERRIFIELD-ROBERTS, 2005