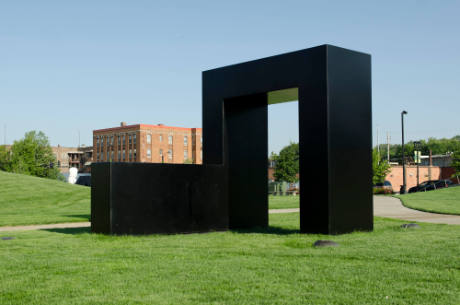 Marriage
Date:
1961, fabricated 1989
Dimensions:
Overall: 120 x 144 x 120 in., 5000 lb. (304.8 x 365.8 x 304.8 cm., 2268 kg.)
Credit Line:
Des Moines Art Center Permanent Collections; Gift of John and Mary Pappajohn, 2015.24
Accession number:
2015.24
Classification:
sculpture
Label Text
Tony Smith's earliest sculptures date to his days spent quarantined from his family while he recovered from tuberculosis. The ample supply of medicine boxes used to treat his illness provided the medium for his small scale models and his imagination. Smith's long career in architecture was also highly influential on his output as a sculptor, evidenced most directly in the large scale of his work and the building-like manner in which his shapes interact with their surrounding space. Marriage is one of Smith's important early large-scale works and masterfully combines abstract geometric forms with human characteristics. Formally, Marriage offers an arch for the viewer to pass through, and presents a dialogue between the various connecting rectangular blocks. The work's title, a dominant cultural institution, implies a specific interpretation for the sculpture.