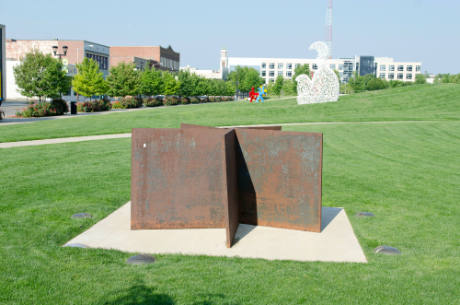 Five Plate Pentagon
Dimensions:
Overall: 60 x 72 x 113 in., 10000 lb. (152.4 x 182.9 x 287 cm., 4536 kg.)
Credit Line:
Des Moines Art Center Permanent Collections; Gift of John and Mary Pappajohn, 2015.21
Accession number:
2015.21
Classification:
sculpture
Label Text
Despite steel's well established use in 20th-century sculpture, Richard Serra chose to work with this medium in part because he felt the ubiquitous metal art of the time was not using the material for it's inherent qualities-qualities he understood because of his early jobs at steel yards. Of this he said, "It had not been used for its weight, its counterbalance, not for its cantilever nor its stasis nor gravitation load. It had not been used in the way that it had been in the Industrial Revolution in terms of building processes and procedures. Instead what they had done was to cut and fold it and use it as kind of a three-dimensional surrogate for painting." Five Plate Pentagon is a sculpture comprised of five unpainted steel plates, assembled together in a manner resembling playing cards delicately balanced against one another. While it can be tempting to look for a narrative inroad into the piece, the artist is not concerned with conveying any specific story or emotion. Instead, the work is about the formal properties of the unadorned steel, the lines in space that are carved out by the plates, and the viewer's interaction with the sculpture in a given moment.