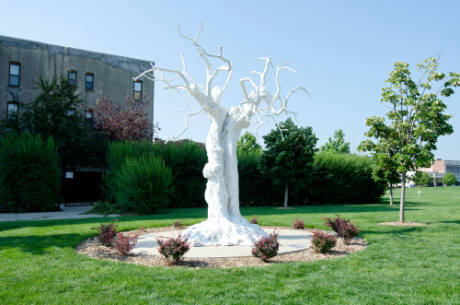 air gets into everything even nothing
Medium:
Cast aluminum, white enamel
Dimensions:
Overall: 155 7/8 x 157 1/2 x 118 1/8 in., 1100 lb. (395.9 x 400.1 x 300 cm., 499 kg.)
Credit Line:
Des Moines Art Center Permanent Collections; Gift of John and Mary Pappajohn, 2015.18
Accession number:
2015.18
Classification:
sculpture
Label Text
Air gets into everything even nothing further investigates Ugo Rondinone's interest in time, displacement, and the relationship between natural and artificial environments. While this sculpture is at once realistic-it's an exact replica of a still living 2,000-year-old olive tree-it is also a man-made construction fabricated from aluminum and covered with white enamel. Rondinone plays with the idea that the original tree is a living entity with deep, history-rich roots, while this ghostly image has nothing beneath its surface to affix it to a permanent location.