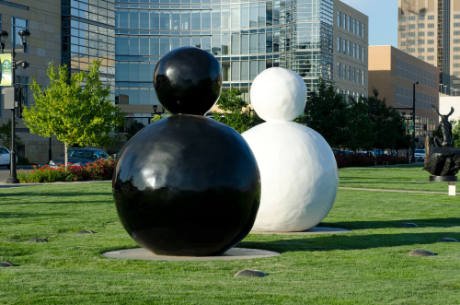 Back of Snowman (Black)
Dimensions:
Overall: 120 × 88 × 88 in., 4000 lb. (304.8 × 223.5 × 223.5 cm., 1814.4 kg.)
Other (circumference body): 264 in. (670.6 cm.)
Other (circumference head): 120 in. (304.8 cm.)
Credit Line:
Des Moines Art Center Permanent Collections; Gift of John and Mary Pappajohn, 2015.14
Accession number:
2015.14
Classification:
sculpture
Label Text
Gary Hume's art is distinguished by bright, expressive colors, luscious surfaces, and simplified forms. While the human figure and face have often been the subject of his work, imagery from childhood such as bears, rabbits, and the snowmen that make up these two works are also common themes. Hume is a painter as well as a sculptor, a fact suggested by the glossy, smooth surface of these sculptures that is unlike any other work in the park. The title Back of a Snowman plays a clever joke on the viewer, in which no amount of circling will reveal the snowman's front.