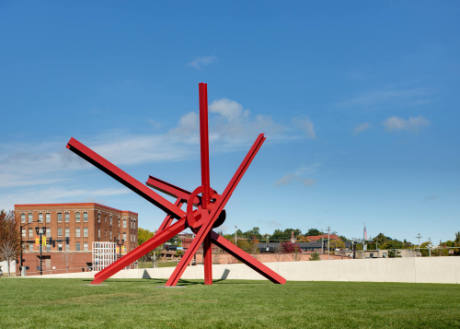 T8
Dimensions:
Overall: 343 × 288 × 444 in., 14550 lb. (871.2 × 731.5 × 1127.8 cm., 6599.8 kg.)
Overall: 28.6 × 24 × 37 ft. (8.7 × 7.3 × 11.3 m.)
Other (Part 1): 1600 lb., 21 ft. (725.8 kg., 252 1/16 in.)
Other (Part 2): 1600 lb., 19.7 ft. (725.8 kg., 237 in.)
Other (Part 3): 4000 lb., 40 ft. (1814.4 kg., 480 1/8 in.)
Other (Part 4): 700 lb., 8 ft. (317.5 kg., 96 in.)
Other (Part 5): 650 lb., 11.7 ft. (294.8 kg., 141 in.)
Other (Part 6): 1800 lb., 32.7 ft. (816.5 kg., 392 in.)
Other (Part 7): 1000 lb., 17.6 ft. (453.6 kg., 211 in.)
Other (Joint): 3200 lb. (1451.5 kg.)
Credit Line:
Des Moines Art Center Permanent Collections; Gift of John and Mary Pappajohn, 2015.12
Accession number:
2015.12
Classification:
sculpture
Copyright:
Contact artist's studio for permission to reproduce: Spacetime C.C. info@spacetimecc.com
Label Text
Mark di Suvero's monumentally-scaled abstract sculptures are made primarily of industrial I-beams and heavy gauge metal. He composes his sculptures directly in the materials without the use of scale-drawn plans or models. He is able to work this way because he operates everything from the crane and anchor to the torch and hammer. Of the relationship between fabrication and composition he says, "Just as poetry can't happen if you don't know how to use words, you have to handle all the methods in order to reach the moment when you can do the dreams." T8 confronts viewers with somewhat familiar, industrial materials, but in di Suvero's hands the rigid seriousness of the steel has been transformed into a lithe, energy-filled structure. This vitality is enhanced as the viewer walks around and through the work, taking in the composition from multiple angles. While the sculpture stands on four legs firmly planted on the ground, these appendages become entangled in a knot of activity as they move skyward, and what formerly appeared stable and balanced, morphs into a burst of animated energy. The work is painted in the artist's signature bright orange-red color, creating maximum contrast against the blue sky.