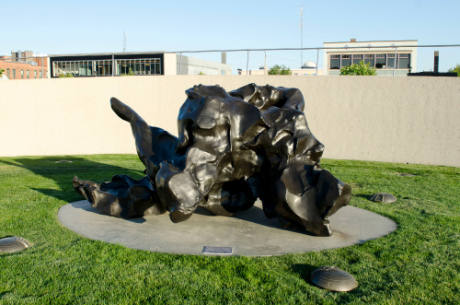 Reclining Figure
Dimensions:
Overall: 68 x 140 x 96 in., 4000 lb. (172.7 x 355.6 x 243.8 cm., 1814.4 kg.)
Credit Line:
Des Moines Art Center Permanent Collections; Gift of John and Mary Pappajohn, 2015.11
Accession number:
2015.11
Classification:
sculpture
Label Text
Along with Jackson Pollock and Mark Rothko, Willem de Kooning was a central figure in the American art movement Abstract Expressionism. He is best known for his abstract figure paintings on the theme of "woman" created in the 1950s and 60s. On a trip to Rome in 1969, when de Kooning was 65 years old, he modeled his first sculptures and over the next five years made about 25 bronze figures using the same gestural techniques and expressionist style of his earlier paintings. Reclining Figure captures the immediacy of the artist's hands pushing the clay around, implying action, emotional energy, and the gestures of the human body. While highly abstract, the woman's figure can be seen in the suggestion of an arm propping up a body and a leg kicking in the air.

Inscription
de Kooning 1969-83