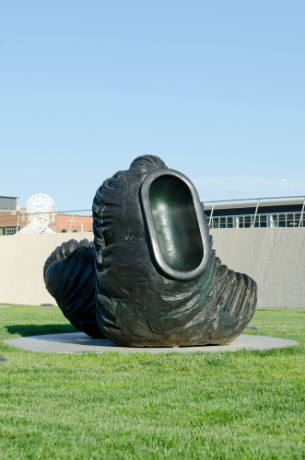 Order
Dimensions:
Overall (.a): 60 x 58 x 55 in. (152.4 x 147.3 x 139.7 cm.)
Overall (.b): 38 x 57 x 69 in. (96.5 x 144.8 x 175.3 cm.)
Overall: 2000 lb. (907.2 kg.)
Credit Line:
Des Moines Art Center Permanent Collections; Gift of John and Mary Pappajohn, 2015.10.a-.b
Accession number:
2015.10.a-.b
Classification:
sculpture
Label Text
Tony Cragg worked as a laboratory technician before attending art school, and there often seems to be a nod to these beginnings in his sculpture. Cragg's Order combines two motifs-the three-lobed body of a trilobite (a marine fossil) and a vessel from a laboratory. By enlarging the primordial trilobites from their usual 1.5 inches in length to a larger-than-human scale, we experience them as if through a microscope-gigantic and threatening. There is a palpable tension in the hybridized form of the marine fossil with the beaker, resulting from the mixture of the ancient and primitive with the advanced. The sculptures also evoke feelings of unease, suggesting disease, engineering, and evolution gone wrong, which is reinforced by the multiple meanings of the word "order". It refers specifically to the biological classification system (life, domain, kingdom, phylum, class, order, family, genus, species), but also implies phrases such as "natural order" or "order of things", and its antonym - disorder, which these unruly creatures embody.