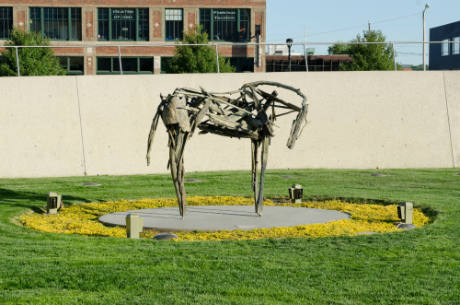 Juno
Dimensions:
Overall: 76 x 68 x 88 in., 2500 lb. (193 x 172.7 x 223.5 cm., 1134 kg.)
Credit Line:
Des Moines Art Center Permanent Collections; Gift of John and Mary Pappajohn, 2015.7
Classification:
sculpture
Label Text
Deborah Butterfield's inspiration is the horse and two of her trademark sculptures are featured in the Pappajohn Sculpture Park. Butterfield's horse sculptures have unique personalities and many are based upon real animals. Juno depicts a bashful creature, shown through the introspective, lowered neck position. Perhaps the most striking aspect of Butterfield's sculptures is their ability to fool the eye with the materials from which they are made. The horses are created through a meticulous process that takes nearly three months to complete. The artist begins by selecting a handful of substantial branches that are then individually cast and reassembled to form the basic shape for each horse. Butterfield then attaches real sticks to the metal armature until she achieves the gesture and demeanor she wishes to portray. The sculpture is then meticulously photographed and disassembled so the individual wooden elements can be cast in bronze. Finally, the metal branches are reattached to the original armature and a patina is applied to the bronze that enhances the look and texture of wood.