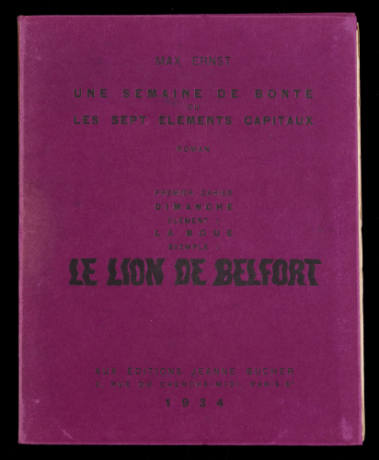 Le Lion de Belfort (The Lion of Belfort), from "Une semaine de bonté, où les sept éléments capitaux. Roman" (A Week of Kindness, or the Seven Deadly Elements. A Novel.) Premier Cahier: Dimanche/ Élément: La Boue (Mud)
Artist:
Max Ernst
(French, born Germany, 1891 - 1976)
Medium:
Electrotype relief plates of collages of 19th-century wood engravings
Dimensions:
Overall: 11 1/4 x 9 x 1/4 in. (28.6 x 22.9 x 0.6 cm.)
Other (cover for all 5 books): 11 3/4 × 9 1/4 × 1 1/2 in. (29.8 × 23.5 × 3.8 cm.)
Credit Line:
Des Moines Art Center Permanent Collections; Purchased with funds from the Edmundson Art Foundation; Rose F. Rosenfield; Myron and Jacqueline Blank; Julian and Irma Brody; and anonymous gift by exchange, 2009.21.1.a-.ii
Accession number:
2009.21.1.a-.ii
Paper/Support
velin d'Arches paper

Catalogue Raisonné
Spies/Metken, vol4, #1904-1938

Edition
37

One of 800 copies on papier de Navarre, from the limited edition of 816 in all
Edition numbering: 0–0000 and I–XII (hors commerce, each volume with a soft ground etching); and 13–812
Numbered in separate justifications in each volume (cahier).