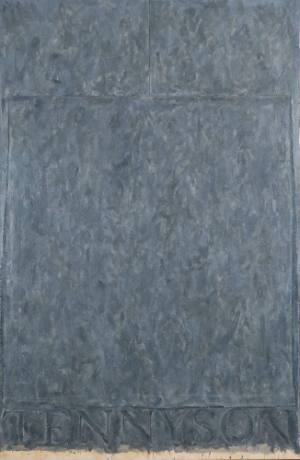 Tennyson
Medium:
Encaustic and canvas collage on canvas
Dimensions:
Frame: 74 1/4 × 48 7/8 × 2 in. (188.6 × 124.1 × 5.1 cm.)
Canvas: 73 1/2 × 48 1/4 in. (186.7 × 122.6 cm.)
Credit Line:
Purchased with funds from the Coffin Fine Arts Trust; Nathan Emory Coffin Collection of the Des Moines Art Center, 1971.4
Label Text
The painting, which is of encaustic and canvas collage, is constructed of two narrow vertical stretchers boltd together from behind (their conjoing is visible in the upper part of the picture); an expanse of canvas has been laid over the rest of the canvas and then folded back on itself. This canvas has then been painted in the same style and with the same strokes as the rest of the work. Along the right edge of the collage element one can easily discern touches of bright red paint, hinting perhaps that something may be painted beneath the gray surface of the canvas. Souce: Bulletin, September-October 1971.
In the 1950s, Jasper Johns, along with Robert Rauschenberg and others, began to move art back towards recognizable imagery, moving past Abstract Expressionism and pre-figuring Pop art. This work illustrates his use of "things the mind already knows", such as targets, flags, or, in this case, a word. The term "TENNYSON" has several possible explanations. It could be a literal reference to Alfred, Lord Tennyson, the Victorian poet, with the thick, gray paint serving as an allusion to Tennyson's melancholy poems. Similar specific references to writers occur in Johns' art. It is also possible that Johns' choice of Tennyson, a classical and widely known poet, makes the word a reference to poetry or literature in general. In the work's top section, the canvas folds over itself, like the pages of a book. This fold is a critical aspect of Tennyson, and an innovation of surface and structure. There are several painted surfaces present, but only two are visible. The rough edges of the fold open enough to reveal the inside is painted in bright colors. The canvas, usually a passive surface, is transformed into an independent object that can contain its own secret spaces.

Inscription
Tennyson, 1958, Jasper Johns (verso ur)
Tennyson (l,c - part of image)

Exhibition History
"Jasper Johns," (Retrospective) The Museum of Modern Art, N. Y., Oct. 16, 1996 - Jan. 14, 1997

"The Abstract Tradition in American Art," Des Moines Art Center, Dec. 7, 1991 - Feb. 23, 1992

"Extended Loan," Walker Art Center, Minneapolis, Oct. 7, 1983 - Nov. 7, 1984

"Jasper Johns Retrospective," Whitney Museum of American Art, N.Y., Oct, 18, 1977 - Jan. 22, 1978, (circulated to: San Francisco Museum of Modern Art, CA, Oct. 20 - Dec. 10, 1978)

Philadelphia Museum of Art, Pennsylvania, exchange loan, Mar. 5 - Apr. 22, 1973

"Jasper Johns," Pasadena Art Museum, CA, 1965

"Jasper Johns: Paintings, Drawings and Sculpture 1954-1964," Thirty-second Biennale, Venice, Italy, 1964, (circulated to: Whitechapel Gallery, London, England)

"Jasper Johns Retrospective," Jewish Museum, N.Y., 1964

"4 Amerikanare: Jasper Johns, Alfred Leslie, Robert Rauschenberg, Richard Stankiewicz" Stockholm, Sweden, Mar. 17 - May 7, 1962

"Jasper Johns 1955-1960," Columbia Museum of Art, Columbia, SC, Dec. 7 - 29, 1960

"Sixteen Americans" Museum of Modern Art, N.Y., 1959

Published References
"Sixteen Americans," Museum of Modern Art, N. Y., 1959, exh. cat. ill. p.24

Robert Rosenblum, "Jasper Johns," ART INTERNATIONAL, vol.IV, no.7, 1960, ref. p.77, ill. p.76

"Jasper Johns 1955 - 1960," Columbia Museum of Art, Columbia, SC, 1960, exh. cat. no.5

"4 Amerikanare: Jasper Johns, Alfred Leslie, Robert Rauschenberg, Richard Stankiewicz," Moderna Museet, Stockholm, 1962, exh. cat. no.5

"Jasper Johns: Paintings, Drawings and Sculptures 1954 - 1964," Thirty-second Biennale, Venice, 1964, exh. cat. no.18, ill.

"Jasper Johns Retrospective," Jewish Museum, N. Y., 1964, exh. cat. no.32, ill. p.38

Max Kozloff, JASPER JOHNS, Harry N. Abrams, N. Y., 1967, ref. p.20-21, 31 & 37, ill. pl.35

DES MOINES REGISTER, Mar. 26, 1971, ref. p.1, ill. p.24

DMAC Bulletin, Sept./Oct. 1971, cover ill.

Leo Steinberg, "Jasper Johns," METRO, nos.4/5, 1962, ref. p.99, ill. p.95 (two revised versions of essay subsequently published: JASPER JOHNS, George Wittenborn, N. Y., 1963, ref. p.21, ill. p.35; and under the title "Jasper Johns: The First Seven Years of His Art," in OTHER CRITERIA: CONFRONTATIONS WITH TWENTIETH CENTURY ART, Oxford University Press, N. Y., 1972, ref. pp.39 & 41, ill. p.40

Michael Crichton, "Jasper Johns," Harry N. Abrams Inc., N.Y., 1977, exh. cat. no.29, ref. pp.18-19, ill. p.19, color ill. pl. no.41 (published in conjunction with the Whitney Museum of American Art's exhibition in 1977-78)

Janet Hobhouse, "Jasper Johns: The Passionless Subject Passionately Painted," ART NEWS, vol.76, no.10, Dec. 1977, ref. p.47

Irving Sandler, THE NEW YORK SCHOOL: THE PAINTERS AND SCULPTORS OF THE FIFTIES, Harper & Row, New York, Hagerstown, San Francisco and London, 1978, ill. no.143, p.192

Florence Margaret Daniels, WHY ART?, Nelson-Hall Inc., Chicago, 1978, ill. p.11

ARTWEEK, Vol.9, no.40, Nov. 25, 1978, b/w ill. p.1

THE NATHAN EMORY COFFIN COLLECTION, a portfolio of fifty selections from the collection, pub. by the Des Moines Art Center to commemorate the 50th anniversary of the death of Nathan Emory Coffin, 1981, b/w ill.

Dore Ashton, AMERICAN ART SINCE 1945, Oxford University Press, N. Y., 1982, ill. no.47, p.75

Robert Pincus-Witten, "Entries: I-Know-That-You-Know-That-I-Know," ARTS MAGAZINE, Feb. 1984, ref. p.128

Richard Francis, JASPER JOHNS, Abbeville Press, N.Y., 1984, ref. pp. 40 & 117, ref. and ill. fig. no.32, p.34

DES MOINES ART CENTER: SELECTED PAINTINGS, SCULPTURES AND WORKS ON PAPER, Des Moines Art Center, 1985, ref. pp.89 & 90, color ill. pl.XIV, p.110

Roberta Bernstein, "The Changing Focus of the Eye," in JASPER JOHNS' PAINTINGS AND SCULPTURES 1954 - 1974, UMI Research Press, Ann Arbor, MI, 1985, ref. pp.39, 42, 43 & 79, ref. no.16, b/w ill. no.16

INDIVIDUALS: A SELECTED HISTORY OF CONTEMPORARY ART 1945 - 1986, Museum of Contemporary Art, Los Angeles, 1986, ref. p.268, b/w ill. p.269

"Jasper Johns," Museum of Modern Art, N. Y., 1996, exh. cat. color ill. pl.36, p.154

DMAC News, Nov./Dec. 1996, ill. p.6

AN UNCOMMON VISION: THE DES MOINES ART CENTER, Des Moines Art Center, 1998, ref. p.149, color ill. p.148

"On Modern American Art: Selected Essays by Robert Rosenblum", Harry N. Abrams, Inc.: New York, 1999, b/w pg.150.

"Sotheby's Contemporary Art Evening", Auction Catalogue for November 12, 2003.
Color, pgs. 36-37

"Jasper Johns Catenary", Matthew marks Gallery and Steidl MM, 2005, color ill. pg.16

James Rondeau & Douglas Druick, "Jasper Johns: Gray", The Art Intitute of Chicago and Yale University Press, 2007, cat. no. 12, color detail pg. 45

"Jasper Johns: Seeing With the Mind's Eye", San Francisco Museum of Modern Art, Yale University Press, 2012, color ill. pg.36