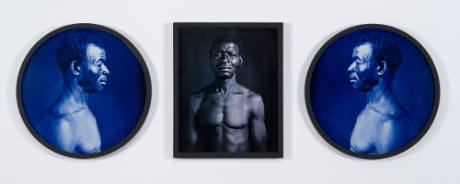 Sea Island Series (Thomas)
Medium:
Three color photographs on paper
Dimensions:
Overall: 20 x 60 in. (50.8 x 152.4 cm.)
Frame (b): 21 × 17 × 1 1/2 in. (53.3 × 43.2 × 3.8 cm.)
Sheet (b): 20 × 16 in. (50.8 × 40.6 cm.)
Frame (Diameter a & c): 21 × 1 1/2 in. (53.3 × 3.8 cm.)
Sheet (Diameter a & c): 20 in. (50.8 cm.)
Credit Line:
Des Moines Art Center Permanent Collections; Purchased with funds from the Edmundson Art Foundation, Inc., 1993.17.a-.c
Accession number:
1993.17.a-.c
Classification:
photograph
Label Text
Thomas is one of three triptychs derived from nineteenth-century daguerreotypes made to record the profiles of Africans for a study to investigate a correlation between intelligence and physical features. The artist Carrie Mae Weems appropriated these images from a university archive and recontextualizes them in her Sea Island Series, a devotional series of photographs and texts that search for her African ancestry. The Sea Islands are low coastal islands off the shores of South Carolina and Georgia, where European slave traders brought West Coast Africans to work the rice, cotton, and indigo plantations. Weems journeyed to the islands to experience and to document the culture and spiritual foundation of the community. Within the larger series that numbers approximately twenty works, Thomas finds a place in the islands' past history of enslavement, while self-portraits of Weems embody the present day and personal freedom. The artist explained that she could only find Africa by literally stepping into the picture.

Exhibition History
"MCM - Y2K: A Century of Art On Paper," Des Moines Art Center, Dec. 11, 1999 - Feb. 13, 2000

"The Well-Rounded Image," Des Moines Art Center, June 5 - July 25, 1999

"From Body to Being: Reflections Upon the Human Image," Des Moines Art Center, Feb. 1 - May 4, 1997

Published References
"MCM - Y2K: A Century of Art On Paper," Des Moines Art Center, 1999, exh. cat. ref. pp.23 & 29

AN UNCOMMON VISION: THE DES MOINES ART CENTER, Des Moines Art Center, 1998, ref. & color ill. p.280, b/w detail p.281