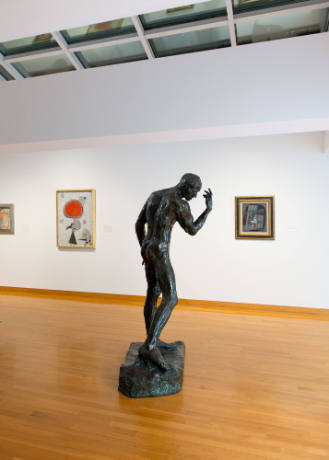 Nude Study for The Burghers of Calais: Pierre de Wiessant
Dimensions:
Overall: 78 × 46 1/4 × 36 3/4 in. (198.1 × 117.5 × 93.3 cm.)
Credit Line:
Purchased with funds from the Coffin Fine Arts Trust; Nathan Emory Coffin Collection of the Des Moines Art Center, 1955.12
Accession number:
1955.12
Classification:
sculpture
Label Text
The second major acquisition for the Nathan Emory Coffin Memorial Collection. This particular figure is one of the rare early casts of a study of one of the six heroes of Calais who offered to go forth to die for their city. Rodin created these men as individuals in attitudes and with gestures that express various emotions--all of them indicating selfless patriotism on behalf of the community. As described by Rainer Maria Rilke, secretary of Rodin, this particular man (sometimes called Le Passant) "moves forward, but he turns back once more, not to the city, not to those who are weeping, and not to those who go with him: he turns back to himself. His right arm is raised, bent, vacillating. His hands open in the air as though to let something go, as one gives freedom to a bird. This gesture is symbolic of a departure from all uncertainty, from a happiness that has not yet been, from a grief that will now wait in vain...and from Death which he had thought far distant.... This figure...would be a monument for all who have died young." This bronze is of special value and interest to Des Moines Art Center visitors in relation to Carl Milles bronze fountainh group, Pegasus and Bellerophon: for Milles was a student in the workshop of the Master Rodin. Source: Bulletin, April 1955.

Inscription
A Rodin (top of base left of anatomicla left foot)
Alexis Rudier Fondeur, Paris (bottom back edge of base anatomical right)

Exhibition History
"Mao to Mars: Heroes and Superheroes," Des Moines Art Center, Jan. 6 - Apr. 8, 2001

"Commitment, Community and Controversy: The Des Moines Art Center Collections," Des Moines Art Center, Jan. 24 - May 10, 1998

"From Body to Being: Reflections on the Human Image," Des Moines Art Center, Feb. 1 - May 4, 1997

"The Kirsch Years," a testimonial exhibition assembled from the permanent collections of the Des Moines Art Center and the University of Nebraska Art Galleries, Lincoln, Jan. 1 - Feb. 10, 1974, (sculpture not shown in Nebraska)

"Rodin," Curt Valentin Gallery, N.Y., May 4 - 29, 1954; (Circulated to: Minneapolis Institute of Arts, June 15 - Aug. 1, 1954; Des Moines Art Center, Aug. 12 - Sept. 19, 1954; Portland Art Museum, Oct. 22 - Nov. 22, 1954; Santa Barbara Museum of Art, Dec. 1954; City Art Museum of St. Louis, Jan. 1955; Cincinnati Art Museum, Mar. 1955)

Published References
ANNUAL REPORT, Central National Bancshares, Inc., 1972, detail ill. p.6

Mary Jo McNamara and Albert Elsen, RODIN'S BURGHERS OF CALAIS - The Cantor, Fitzgerald Collection, 1977, ill. fig.22 (detail of another cast)

NATHAN EMORY COFFIN COLLECTION, a portfolio of fifty selections from the collection, published by the Des Moines Art Center to commemorate the 50th anniversary of the death of Nathan Emory Coffin, 1981, color ill.

DES MOINES ART CENTER: SELECTED PAINTINGS, SCULPTURES AND WORKS ON PAPER, Des Moines Art Center, 1985, ref. pp.183 & 184, b/w ill. pl.119, p.185

"Rodin," Curt Valentin Gallery, N. Y., 1954, exh. cat. no.9, ill.

DMAC Bulletin, Apr. 1955, detail ill.

Eloise Spaeth, AMERICAN ART MUSEUMS AND GALLERIES- AN INTRODUCTION TO LOOKING, Harper & Brothers, N.Y., 1960, ref. p.144 (incorrect title)

DES MOINES SUNDAY REGISTER, Mar. 13, 1955, ill.

DMAC Annual Report, July 1, 1981 - June 30, 1982, cover ill. (installation)

AN UNCOMMON VISION: THE DES MOINES ART CENTER, Des Moines Art Center, 1998, ref. & color detail p.234, color ill. pp.234 & 235

DES MOINES SUNDAY REGISTER, Oct. 10, 1976, ill.

"The Kirsch Years," Des Moines Art Center, 1974, exh. cat. ref. no.59

Edition
Records do not indicate size of edition or cast number - according to the artist's will, twelve casts of each of his sculptures were authorized. The Art Center's bronze was cast by Alexis Rudier and therefore is probably an early cast.