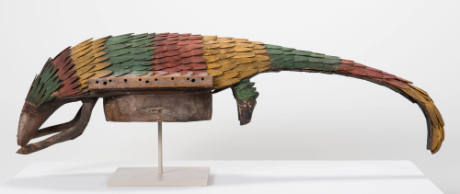 Egbukere Masquerade Headdress
Dimensions:
Overall: 17 1/2 x 8 x 40 in. (44.5 x 20.3 x 101.6 cm.)
Credit Line:
Des Moines Art Center; Julian and Irma Brody African Art Collection, 1997.73
Accession number:
1997.73
Classification:
African/Oceanic/Pre-Columbian
Label Text
This mask is worn by the Ijaw people on top of the head rather than over the face. It portrays a pangolin, or scaly anteater, and represents a creature from the spirit world that has taken the form of animal. "Masqueraders" would wear this mask during annual ceremonies commemorating water spirits. The mask exemplifies the artist's ability to distill the animal's form to its most essential and expressive parts.

Published References
AN UNCOMMON VISION: THE DES MOINES ART CENTER, Des Moines Art Center, 1998, ref. & color ill. p.319, fig.3