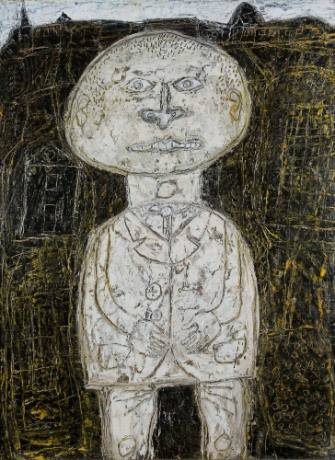 Le Villageois aux Cheveux Ras (The Villager with Close-Cropped Hair)
Dimensions:
Frame: 62 × 49 3/8 × 3 1/2 in. (157.5 × 125.4 × 8.9 cm.)
Other (paint film): 50 5/8 x 37 7/8 in. (128.6 x 96.2 cm.)
Image (visible): 50 1/4 × 37 1/2 in. (127.6 × 95.3 cm.)
Credit Line:
Purchased with funds from the Coffin Fine Arts Trust; Nathan Emory Coffin Collection of the Des Moines Art Center, 1981.41
Accession number:
1981.41
Label Text
Dubuffet began studying art at the age of fifteen and fully committed himself to the life as an artist after serving in the French army during World War II. Inspired by vernacular and children's art as well as the work of self-taught artists, Dubuffet embraced spontaneous gestures and simple lines to create what he perceived as an authentic form of expression. Dubuffet created over 160 portraits between 1946 and 1947 including this painting. Dubuffet's portraits caused a geat controversy when they were first exhibited due to the artist's nontraditional opinions about what should be considered beautiful. Unlike the other portraits, this grimacing figure stands in the foregound of a yellow outlined village with winding paths and prchards. The sitter's identity is unknown although there is some speculation that it is the artist's own likeness and actually Dubuffet indicated that The Villager is a self-portrait. Source: News, January February March 2004.

Exhibition History
"Commitment, Community and Controversy: The Des Moines Art Center Collections," Des Moines Art Center, Jan. 24 - May 10, 1998

"From Body to Being: Reflections on the Human Image," Des Moines Art Center, Feb. 1 - May 4, 1997

"Jean Dubuffet 1943-1963: Paintings, Sculptures, Assemblages," Hirschhorn Museum and Sculpture Garden, Washington, D.C., June 15 - Sept. 12, 1993

"Extended Loan," Walker Art Center, Minneapolis, MN, Oct. 7, 1983 - Nov. 7, 1984

"Dubuffet: A Selection," Robert Elkon Gallery, N.Y., Sept. 27 - Oct. 29, 1975

"The Work of Jean Dubuffet," Museum of Modern Art, N.Y., Feb. 19 - Apr. 8, 1962, (circulated to: Art Institute of Chicago, May 11 - June 17, 1962; Los Angeles County Museum of Art, July 1 - Aug. 12, 1962 (credit line: Alfonso Ossorio and Edward Dragon))

Published References
DM Tribune, Oct. 16, 1981, ill.

"The Work of Jean Dubuffet," Museum of Modern Art, N. Y., 1962, exh. cat. no.42

JEAN DUBUFFET: TEN PAINTINGS, Thomas Gibson Fine Art, London, 1974, color ill.

DES MOINES ART CENTER: SELECTED PAINTINGS, SCULPTURES AND WORKS ON PAPER, Des Moines Art Center, 1985, ref. p.63, color ill. pl.VII, p.103

Walter E. Shotwell, "A Look At the Art of Buying Good Art," DES MOINES TRIBUNE, Nov. 23, 1981, ill.

Alexandra Anderson, "Art: Self-Portraits," ARCHITECTURAL DIGEST, Jan. 1979, pp.130-135, color ill. p.135

Susan Cooke, Jean Planque, and Peter Schjedahl, JEAN DUBUFFET 1943-1963: PAINTINGS, SCULPTURES ASSEMBLAGES, Hirschhorn Museum and Sculpture Garden, Washington, D. C., in association with the Smithsonian Institution Press, 1993, color ill. pl. 22, p.65

"Nathan Emory Coffin Collection of the Des Moines Art Center," Des Moines Art Center brochure

"Dubuffet: A Selection," Robert Elkon Gallery, N. Y., 1975, cat. no.15

LA CHRONIQUE DES ARTS, supplement to Gazette des Beaux Arts, Mar. 1983, ill. no.262, p.47

DM REGISTER, Nov. 14, 1981, front page ill.

DM REGISTER, Oct. 27, 1981, ill.

DMAC Bulletin, Mar./Apr. 1982, cover ill.

DM REGISTER, Nov. 12, 1981, ill.

DM REGISTER, Oct. 16, 1981, front page ill.

AN UNCOMMON VISION: THE DES MOINES ART CENTER, Des Moines Art Center, 1998, ref. & color detail p.103, color ill. p.102

Max Loreau, ed., CATALOGUE INTEGRAL DES TRAVAUX DE JEAN DUBUFFET, J.J. Pauvert, Paris, 1967, Fascicule Iv: Roses d'Allah, Clowns du Desert, no.23, p.27