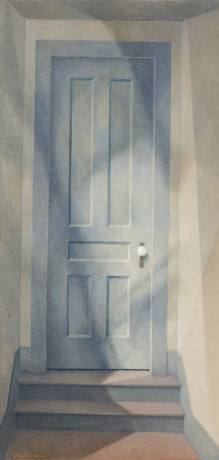 Uncle Ben's Door
Dimensions:
Overall: 32 x 16 in. (81.3 x 40.6 cm.)
Credit Line:
Des Moines Art Center Permanent Collections; Susan Ankeny Brown Memorial Fund, 1958.28
Accession number:
1958.28
Label Text
Iowa artist Marvin Cone is best known as an associate of Grant Wood and a painter of traditional Regionalist landscape. However, unlike Wood, Cone retained a lifelong interest in the possibilities of abstraction and the use of color, line, and light to evoke mood and emotional expression. Throughout his career, Cone painted a series of hallways, doors, and empty rooms, meant to suggest responses ranging from warm and nostalgic to haunted and fearful. While some of the door paintings offer clues to the artist's intent such as half-open, moonlit windows, or crooked portraits of stern older relatives, the architectural space in this painting contains only heavy shadows. By focusing on a closed door the artist inherently suggests something is hidden behind it, but leaves that secret up to the viewer's imagination.

Signed
Marvin Cone (l,l oil paint)

Exhibition History
"10th Annual Iowa Artists Show," DMAC, (painting was purchased from exhibition)

"Fine Arts Festival," Graceland College, Lamoni

"The Painting of Light," DMAC, cat. no. 31

"Marvin Cone Paintings," Laura Musser Art Gallery, Muscatine

"Michigan Astrain," 1975 tour, sponIowa Artists Exhibition, Younker Purchase Awardsored by the Upper Midwest Regional Arts Council, brochure ref.- traveled to: Wisconsin (6 locations), 4/23/75-6/2/75; Minnesota (3 locations), 6/4/75-7/29/65; North Dakota (4 locations), 7/2/75-7/27/75; Minnesota (3 locations) 7/30/75-8/17/75; South Dakota (5 locations) 8/27/75-10/5/75; Iowa (6 locations), 10/8/75-11/16/75~

"Works by Grant Wood and Marvin Cone," Brunnier Art Gallery, Ames, IA, illus. inside fold of brochures.

"Marvin D. Cone," Cedar Rapids Museum of Art, Cedar Rapids, MI, April 15 - August 15, 1992