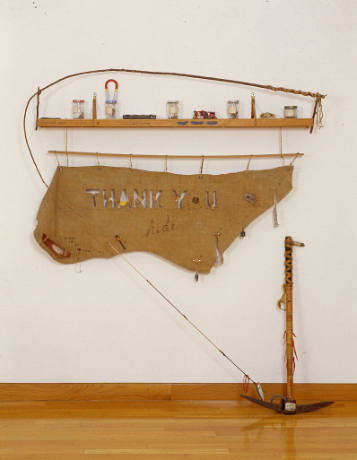 Thank You Hide
Medium:
Construction with wood, leather, ink and charcoal on cowhide, pickaxe, found objects and watercolors
Dimensions:
Overall: 74 x 160 1/2 in. (188 x 407.7 cm.)
Frame: 34 5/8 x 56 1/8 in. (87.9 x 142.6 cm.)
Credit Line:
Purchased with funds from the Coffin Fine Arts Trust; Nathan Emory Coffin Collection of the Des Moines Art Center, 1977.9
Classification:
sculpture
Label Text
Wiley was associated with the Funk Art movement which emerged in Northern California in the mid-1960s and 70s. Funk artists relied on eclecticism, humor, and pop culture as inspirations, following in the footsteps of previous "anti-art" movements such as Dada. Thank You Hide is a combination of drawing and found objects arranged in a seemingly disparate manner. This random order stems from the artist's own sense of personal iconography, and allows for many visual and verbal puns, such as the phrase "No mad is an island," which turns up elsewhere in Wiley's art. The central theme of the work is contact between indigenous cultures and Europeans, as is referenced by the roughly U.S. shaped cowhide, arrowheads, and leather ornamentations.

Inscription
Titled in center area of cowhide

Exhibition History
"Individuals: A Selected History of Contemporary Art 1945 - 1986," organized by Julia Brown Turrell, Curator and Project Director, Museum of Contemporary Art, Los Angeles, Dec. 6, 1986 - Jan. 10, 1988

"Art in the San Francisco Bay Area, 1945-1980," Oakland Museum, CA, June 15 - Aug. 18, 1985 (exhibition included the six watercolors), June 15 - Aug. 18, 1985

"Wiley Territory," Walker Art Center, Minneapolis, Dec. 9 - Jan. 27, 1980; (Circulated to: Dallas Musuem of Fine Arts, May 10 - June 21, 1980; Denver Art Museum, July 19 - Aug. 31, 1980; Des Moines Art, Sept. 29 - Nov. 9, 1980; San Francisco Museum of Modern Art, Dec. 12, 1980 - Jan. 25, 1981; Phoenix Art Museum, Mar. 6 - Apr. 12, 1981)

"Primitive Presence in the '70's," Vassar College Art Gallery, Poughkeepsie, N.Y., May 5 - 31, 1975

"William T. Wiley: Assemblages en Aquarellen," Stedelijk van Abbemuseum, Eindhoven, The Netherlands, Apr. 13 - May 27, 1973; (Circulated to: Lijnbaan Kunstcentrum, Rotterdam, The Netherlands, June 15 - July 31, 1973; International Cultureel Centrum, Antwerp, Belgium, Sept. 1 - Sept. 30, 1973)

"William T. Wiley," University Art Musuem, University of California, Berkeley, Sept. 18 - Oct. 24, 1971; (Circulated to: Institute of Contemporary Art, University of Pennsylvania, Philadelphia, Nov. 16 - Dec. 19. 1971; Art Institute of Chicago, Jan. 15 - Feb. 28, 1972; Corcoran Gallery of Art, Washington, D.C., 1972)

Hansen Fulley Gallery, San Francisco, CA, 1971

Published References
NATHAN EMORY COFFIN COLLECTION, a portfolio of fifty selections from the collection, published by the Des Moines Art Center to commemorate the 50th Anniversary of the death of Nathan Emory Coffin, 1981, b/w ill.

Bob Woodside, "Great Museums in Strange Places," AURA, vol.2, no.1, Spring 1979, ill. p.8

Robert Atkins, ART SPEAK: A GUIDE TO CONTEMPORARY IDEAS, MOVEMENTS AND BUZZWORDS, Abbeville Press, New York, 1990, b/w ill. p.83

Jonathan Fineberg, ART SINCE 1940: STRATEGIES OF BEING, Prentice Hall, Englewood Cliffs, NJ, 2000, ill. pp.281-82

DES MOINES ART CENTER: SELECTED PAINTINGS, SCULPTURES AND WORKS ON PAPER, Des Moines Art Center, 1985, ref. & b/w ill. p.214, pl. no.144

Albert Stewart, "Mr. Unnatural," IMAGES & ISSUES, Spring 1981, ref. pp.36 & 37, ill. p.34 (re-printed in "William Wiley," University Fine Arts Galleries, Florida State University, Tallahasse, 1981, ref. p.4)

"Primitive Presence in the '70s," Vassar College Art Gallery, Poughkeepsie, NY, 1975, exh. cat. ill. p.21

Carter Ratcliff, "On Contemporary Primitivism," ARTFORUM, Vol.XIV, No.3, Nov. 1975, ref. pp.57 & 58, ill. p.58

Thomas Albright, "Art In the San Francisco Bay Area, 1945 - 1980," Oakland Museum, CA, 1985, exh. cat. ref. p.349, color ill. p.120

"Individuals: A Selected History of Contemporary Art 1945 - 1986," Museum of Contemporary Art, Los Angeles, 1986, exh. cat. ref. p.362, color ill. p.233

DMAC News, May/June 1995, p.9

AN UNCOMMON VISION: THE DES MOINES ART CENTER, Des Moines Art Center, 1998, ref. p.287, color ill. pp.286 & 287

Nancy Dustin Wall Moure, CALIFORNIA ART: 450 YEARS OF PAINTING AND OTHER MEDIA, Dustin Publications, Los Angeles, 1998, color ill. fig.27-7, p.356

"William T. Wiley," University Art Museum, University of California, Berkeley, 1971, exh. cat. no.65, ill. p.11

"Wiley Territory," Walker Art Center, Minneapolis, 1980, exh. cat. checklist no.93, ref. pp.23, 40 & 41, ill. p.40

Western Literature Association and Utah State University, "Western American Literature", Quarterly Journal of the Western Literature Associatiob, Summer 2006. b/w image pg.176