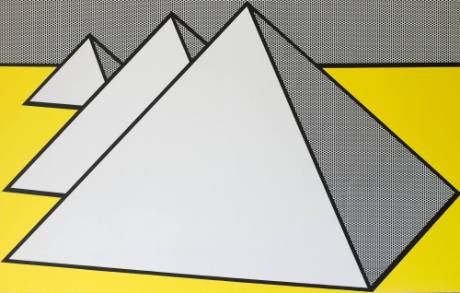 The Great Pyramid
Medium:
Oil and magna on canvas
Dimensions:
Canvas (/image): 129 × 204 1/4 in. (327.7 × 518.8 cm.)
Credit Line:
Purchased with funds from the Coffin Fine Arts Trust; Nathan Emory Coffin Collection of the Des Moines Art Center, 1970.1
Label Text
Along with Claes Oldenburg and Andy Warhol, Lichtenstein is among the most important and best known of the international Pop artists. Employng both subject matter and the technique of the comic strip, Lichtenstein's paintings and sculptures have attained an individuality. Discussing Pop Art with G. R. Swenson, the artist has described it as "an involvement with what I think to be the most brazen and threatening characteristics of our culture, things we hate, but which are also powerful in their impingement on us. I think art since Cezanne has become extremely romantic and unrealistic, feeding on art; it is utopian. It has had less and less to do with the world, it looks inward--new-Zen and all that. This is not so much a criticism as an obvious observation. Outside is the world; it's there. Pop Art looks out into the world; it appears to accept its environment, which is not good or bad, but different--another state of mind." Source: Bulletin, March 1970.

Signed
R. Lichtenstein '69 (verso l,l)

Exhibition History
"Painting in New York 1944 to 1969," Pasadena Art Museum, Nov. 22, 1969 - Jan. 1970

Published References
THE NATHAN EMORY COFFIN COLLECTION, a portfolio of fifty selections from the collection, published by the Des Moines Art Center to commemorate the 50th anniversary of the death of Nathan Emory Coffin, 1981, b/w ill.

"A Visual Spectrum of the Arts," SEE MAGAZINE, Nov./Dec. 1977, color ill. p.6

John Coplans, "Pasadena's Collapse and the Simon Takeover - Diary of a Disaster," ARTFORUM, Vol XIII, no.6, 1975, pp.28-45, ill. p.38

John Coplans, ed., ROY LICHTENSTEIN, Praeger, New York, 1972, pl.64, p.127

Diane Waldman, ROY LICHTENSTEIN, Harry N. Abrams, New York, 1971, color ill. no.176

"Recent Accessions of American and Canadian Museums," THE ART QUARTERLY, Autumn 1970, ill. p.337

Lawrence Alloway, ROY LICHTENSTEIN, Abbeville Press, New York, 1983, color pl. no.46, p.48

DES MOINES REGISTER, Feb. 1, 1970, ill.

AN UNCOMMON VISION: THE DES MOINES ART CENTER, Des Moines Art Center, 1998, ref. & b/w detail p.172, color ill. p.173

DMAC Bulletin, Mar. 1970, cover ill.

ARTFORUM, article by Jean Louis Bourgeois, Nov. 1969, ill. pl.76, p.77

"Painting In New York 1944 to 1969," Pasadena Art Museum, 1969, exh. cat. ill. pl.18, p.41

Diane Waldman, "The Great Pyramid," from ROY LICHTENSTEIN, Guggenheim catalog, 1969, ill.

DES MOINES ART CENTER: SELECTED PAINTINGS, SCULPTURES AND WORKS ON PAPER, Des Moines Art Center, 1985, ref. pp.140 & 141, b/w ill. pl.81, p.141