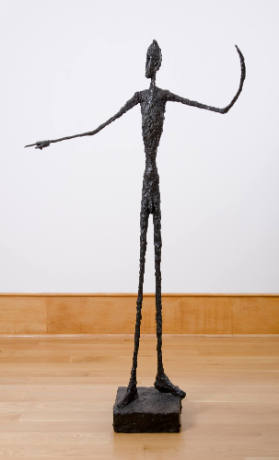 L'homme au Doigt (Man Pointing)
Dimensions:
Overall: 70 1/2 x 37 x 17 5/8 in. (179.1 x 94 x 44.8 cm.)
Credit Line:
Purchased with funds from the Coffin Fine Arts Trust; Nathan Emory Coffin Collection of the Des Moines Art Center, 1976.99
Accession number:
1976.99
Classification:
sculpture
Label Text
Giacometti's signature style of roughly textured, emaciated figures began to take shape in the mid-1940s, when this work was produced. It stems from the artist's desire to depict his own perception of reality. He found this task daunting, often destroying and remaking a work several times, a process revealed in his sculpture's jagged surfaces. Eventually, Giacometti found satisfaction in representing the human form as if seen from a distance. His craggy surfaces offer few individualized details or features, and the figure becomes so thin it almost vanishes, just as a person can be watched quickly moving out of sight. Giacometti used this expressive distortion to suggest the anger and confusion felt by much of the world after the horrors of WWII. Man Pointing, like most of Giacometti's figures, stands utterly alone, possessing power as well as vulnerability. This sense of isolated individualism in his work led Giacometti to be identified as the pre-eminent visual artist of existentialism.

Inscription
5/6 A Giacometti (top of base near edge on Figure's anatomical right side); Alexis Rudier/Fondeur Paris (back of base on dexter side)

Exhibition History
"From Body to Being: Reflections on the Human Image," Des Moines Art Center, Feb. 1 - May 4, 1997

"Alberto Giacometti," organized by the San Francisco Museum of Modern Art, CA & Hirschhorn Museum & Sculpture Garden, Washington, D. C., (circulated to: Hirschhorn Museum & Sculpture Garden, Sept. 15 - Nov. 13, 1988; San Francisco Museum of Modern Art, Dec. 15, 1988 - Feb. 5, 1989)

"In Quest of Excellence," Center for the Fine Arts, Miami, FL, Jan. 14 - Apr. 22, 1984

"Art in Western Europe: The Postwar Years 1945-1955," Des Moines Art Center, Sept. 19 - Oct. 29, 1978

"Alberto Giacometti: A Retrospective Exhibition," Guggenheim Musuem, N.Y., 1974, (other cast)

"Alberto Giacometti," Orangerie des Tuileries, Paris, France, Oct. 1969 - Jan. 1970, (other cast)

"Alberto Giacometti," Museum of Modern Art, N.Y., 1965, (circulated to: Art Institute of Chicago; Los Angeles County Museum of Art; San Francisco Museum of Art) (other cast)

"Alberto Giacometti," Kunsthaus, Zurich, Switzerland, Dec. 1962 - Jan. 1963

"XXXI Bienalle," Venice, Italy, 1962, (Giacometti 82) (other cast)

"New Images of Man," Museum of Modern Art, N.Y., 1959, circulated to the Baltimore Museum of Art (other cast)

"Alberto Giacometti," Kunsthalle, Bern, Switzerland, June - July 1956 (other cast)

"Alberto Giacometti: Sculpture, Paintings, Drawings," Arts Council Gallery, London, June - July 1955 (other cast)

Published References
"Alberto Giacometti: Sculpture, Paintings, Drawings," Arts Council Gallery, London, 1955, exh. cat. detail ill. p.15 (other cast)

John Rothenstein, THE TATE GALLERY, London, 1958, ill. pl. no.23 (other cast)

John Russell, THE MEANINGS OF MODERN ART, Harper & Row, N.Y. in conjunction with the Museum of Modern Art, N.Y., 1981 (revised edition), ill. p.370, ref. p.371 (other cast)

Herbert Read, A CONCISE HISTORY OF MODERN SCULPTURE, 1964, Frederick A. Praeger, N.Y., ill. p.149 (other cast)

ART DIGEST, Mar. 15, 1953, ill. p.15 (cast owned by the Baltimore Museum of Art)

Reinhold Hohl, ALBERTO GIACOMETTI: SCULPTURE, PAINTINGS, DRAWINGS, London, 1972, pp.135-139, 302, ill. p.117 (other cast)

Carlo Huber, ALBERTO GIACOMETTI, Editions Rencontre, Lausanne, Switzerland, 1970, ill. p.55 (other cast)

Jacques Dupin, GIACOMETTI, Maeght Editeur, Paris, 1962, ill. p.242

James Lord, A GIACOMETTI PORTRAIT, N.Y., 1965, p.34 (other cast)

THIRTEEN BRONZES: ALBERT GIACOMETTI, Thomas Gibson Fine Arts Ltd., London, 1977, cat. no.1, cover ill., color ill. p.23 (other cast)

"Alberto Giacometti," Kunsthalle, Bern, 1956, exh. cat. ill. p.18 (other cast)

Edmund Burk Feldman, VARIETIES OF VISUAL EXPERIENCE, Harry N. Abrams, N.Y. & Prentice-Hall, Inc., Englewood Cliffs, N.J., 1972, repro. p.18 (other cast)

"Alberto Giacometti: A Retrospective Exhibition," Guggenheim Museum, N. Y., 1974, exh. cat. no.50, ill. p.84 (other cast)

"Alberto Giacometti," Museum of Modern Art, N. Y., 1965, exh. cat. no.26, ill. p.49 (other cast)

SEE MAGAZINE: A VISUAL SPECTRUM OF THE ARTS, Nov./Dec. 1977, color ill. p.5

DMAC Bulletin, July/Aug. 1977, cover ill.

DES MOINES ART CENTER: SELECTED PAINTINGS, SCULPTURES AND WORKS ON PAPER, Des Moines Art Center, 1985, ref. pp.72 & 74, b/w ill. pl.51, p.73

"In Quest of Excellence," Center for the Fine Arts, Miami, FL, 1984, exh. cat. no.176, ref. pp.96 & 97, ill. p.97, color ill. in exh. brochure

Alberto Giacometti," Kunsthaus, Zurich, 1962, exh. cat. ill. p.29 (other cast)

Bob Woodside, "Great Museums in Strange Places," AURA, vol. 2, no. 1, Spring 1979, ill. p.8

Peter Selz, "New Images of Man," Museum of Modern Art, N. Y., 1959, exh. cat. ill. p.69 & 72 (other cast)

"Art In Western Europe: The Postwar Years, 1945-1955," Des Moines Art Center, 1978, exh. cat. no.19, ill.

DES MOINES SUNDAY REGISTER, June 26, 1977, ill.

Reinhold Hohl, ALBERTO GIACOMETTI, Harry N. Abrams, Inc., N.Y., 1971, ill. p.117 (other cast)

"The Art That Draws People," ENERGY MAGAZINE, Iowa Power and Light Co., Fall 1980, p.3

"Alberto Giacometti," Orangerie des Tuileries, Paris, 1969, cat. exh. ill. p.48 (other cast)

AN UNCOMMON VISION: THE DES MOINES ART CENTER, Des Moines Art Center, 1998, ref. & color ill. p.120, b/w ill. p.121

Andrew C. Ritchie, SCULPTURE OF THE TWENTIETH CENTURY, N.Y., 1952, ill. p.210 (other cast)

NATHAN EMORY COFFIN COLLECTION, a portfolio of fifty selections from the collection to commemorate the 50th anniversary of the death of Nathan Emory Coffin, Des Moines Art Center, 1981, color ill.

LA CHRONIQUE DES ARTS - PRINCIPALES ACQUISITIONS DES MUSEES EN 1977, Supplement to the GAZETTE DES BEAUX-ARTS, No. 1310, Mar. 1978, pl. no.271, p.60