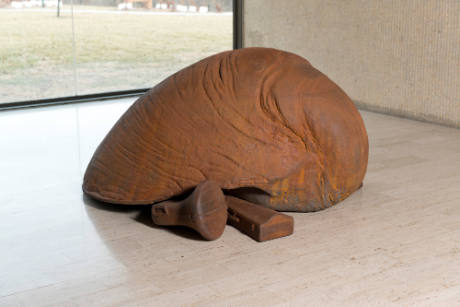 Untitled (Shell)
Dimensions:
Overall: 43 x 87 x 79 in. (109.2 x 221 x 200.7 cm.)
Credit Line:
Purchased with funds from the Coffin Fine Arts Trust; Nathan Emory Coffin Collection of the Des Moines Art Center, 2000.1
Classification:
sculpture
Label Text
Tony Cragg came to sculpture through science and the process of observing things. He is inspired by the idea that nature develops by stages into culture. In Untitled (Conch Shell), the brass instrument cases tucked under the large mollusk shell reflect this thinking. A possible interpretation suggests that the instrument cases represent culture's reproduction of nature's case – the conch shell, which protects the primal "music" of blood flowing through body. The shell, overtaking the cases either by delivering or devouring them, suggests the philosophy that that which comes from the earth returns to it.

Exhibition History
Stedelijk Van Abbemuseum, Eindhoven, May 13 - July 2, 1989

"Tony Cragg: XLIII Biennale di Venezia," Organized by the British Council, June 26 - Sept. 25, 1988