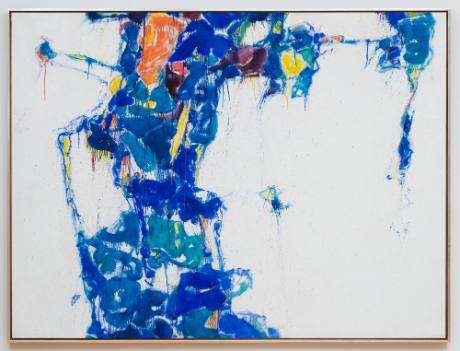 Summer No. 2
Dimensions:
Frame: 74 × 98 × 2 3/8 in. (188 × 248.9 × 6 cm.)
Canvas (/image): 72 1/8 × 96 in. (183.2 × 243.8 cm.)
Credit Line:
Des Moines Art Center Permanent Collections; Gift of the Richard and Jeanne Levitt Family in Memory of Ellis and Nelle Levitt, 1984.25
Accession number:
1984.25
Label Text
Francis took up art as therapy during a long hospital stay during wartime service as a fighter pilot. His distinctive pictorial style began from what he saw from his bed – the play of light on the ceiling or across the Pacific sky. The work of the earlier generation of Abstract Expressionists, such as Pollock and Rothko, along with a stay in Paris studying Monet and Matisse, helped define his ideas of color and space. His early works, like Summer No. 2, combine the large scale and painterly traits of Abstract Expressionism with bright, jewel tones reminiscent of not only Matisse and Monet, but the landscape of Francis' native California. Summer No. 2's brilliant colors are offset by the large expanses of white. Francis' application of color in "controlled accidents" allows dripping paint and uneven layers of color to infiltrate the clear space in a sensual, organic manner.

Inscription
Blue Sam Francis 57 (verso u,c stretcher bar)

Exhibition History
"The Abstract Tradition in American Art," Des Moines Art Center, Dec. 7, 1991 - Feb. 23, 1992

"Sam Francis: Paintings, 1947-1990", The Museum of Contemporary Art, Los Angeles, March 7 - July 25, 1999; The Menil Collection, Houston, Sept. 9, 1999 - Jan. 2, 2000; Malmo Kunsthall, Malmo, Sweden, Jan. 29 - May 1, 2000; Museo Nacional Centro de Arte Reina Sophia, Madrid, Spain, June 6 - Aug. 28, 2000; Galleria Comunale d'Arte Moderna e Contemporanea, Rome, Italy, Oct. 30, 2000 - Jan.28, 2001

Published References
DMAC Annual Report, July 1, 1984 - June 30, 1985

AN UNCOMMON VISION: THE DES MOINES ART CENTER, Des Moines Art Center, 1998, ref. p.112, color ill. p.113

DES MOINES ART CENTER; SELECTED PAINTINGS, SCULPTURES AND WORKS ON PAPER, Des Moines Art Center, 1985, ref. p.70, color ill. pl.VIII, p.104

ABSTRACT EXPRESSIONISM, Royal Academy of Arts, London, 2016, ill. cat. no. 88, pg. 226-227

EXPRESSIONISMO ABSTRACTO, Royal Academy of Arts, Londres, 2016, ill. cat. no 68, pg. 204-205 (Spanish language)