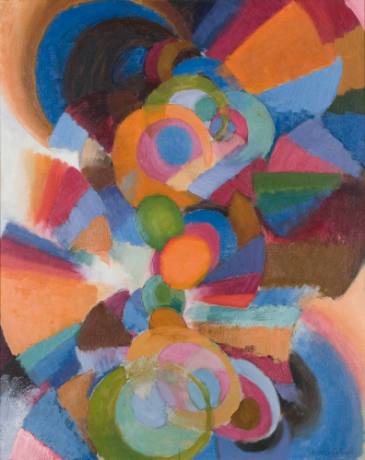 Abstraction on Spectrum (Organization 5)
Dimensions:
Frame: 37 1/2 × 31 5/16 × 2 3/8 in. (95.3 × 79.5 × 6 cm.)
Canvas: 30 1/8 × 24 3/16 in. (76.5 × 61.4 cm.)
Image (visible): 29 1/2 × 23 1/2 in. (74.9 × 59.7 cm.)
Credit Line:
Purchased with funds from the Coffin Fine Arts Trust; Nathan Emory Coffin Collection of the Des Moines Art Center, 1962.21
Accession number:
1962.21
Label Text
When [abstract art] began in 1910 it was the radical innovation of a few artists, in an era of dazzling creativity in art. Stanton Macdonald-Wright was one of the few Americans to be among the avant-garde in the epoch making period before the first World War. His brilliant orchestrations of color used carefully organized, dynamic compositions based on the circle, and on radiating color wedges. In close relation to the work of Delauney these early painings by Macdonald-Wright were among the first vital abstract works using controlled simultaneous contrast of color, based on the newly developed color theories. Source: Bulletin, May 1963.

Signed
S Macdonald-Wright (l,r oil paint)

Exhibition History
"Color, Myth and Music: Stanton Macdonald-Wright and Synchromism", North Carolina Museum of Art, March 4 - June 3, 2001; Los Angeles County Museum of Art, August 5 - October 29, 2001; Museum of Fine ARts, Houston, December 2, 2001 - February 24, 2002

"Occultism and Avant-Garde, 1900-1915", Schirn Kunsthalle Frankfurt, Frankfurt, Germany, June 2 - Aug. 27, 1995

"The Abstract Tradition in American Art," Des Moines Art Center, Dec. 7, 1991 - Feb. 23, 1992

"Selected Works from the Des Moines Art Center's Permanent Collection," organized by the Waterloo Municipal Galleries, sponsored by the National Bank of Waterloo, Oct. 24 - Nov. 20, 1983; (circulated to: Charles H. MacNider Museum, Mason City, Jan. 15 - Feb. 26, 1984; Muscatine Art Center, April 1 - May 13, 1984; Cedar Rapids Museum of Art, May 27 - July 1, 1984; Sioux City Art Center, July 15 - Aug. 26, 1984)

"Highlights from Three Collections: The Bohen, Coffin and Cowles Collections," Des Moines Art Center, July 8 - Sept. 11, 1983

"Synchromism and American Color Abstraction 1910 - 1925," Whitney Msueum of American Art, Jan. 24 - Mar 26, 1978; (circulated to: Museum of Fine Arts, Houston, Apr. 20 - June 18, 1978; Des Moines Art Center, July 6 - Sept. 3, 1978; San Francisco Museum of Modern Art, Sept. 22 - Nov. 19, 1978)

"The Modern Spirit: American Painting 1908 - 1935," Hayward Gallery, London, organized by the Arts Council of Great Britain, Sept. 28 - Nov. 20, 1977

"Paris - New York," Centre national d'art et de culture Georges Pompidou, Musee national d'art moderne, Paris, June 1 - Sept. 19, 1977

"Celebration," Inaugural exhibition of the Sarah M Scaife Gallery of the Museum of Art, Carnegie Institute, Pittsburg, Oct. 26, 1974 - Jan. 5, 1975

"Color and Form 1909 - 1914," Fine Arts Gallery of San Diego, Nov. 20, 1971 - Jan. 2, 1972; (circulated to: Oakland Museum, Jan. 26 - Mar. 5, 1972; Seattle Art Museum (Pavilion), Mar. 24 - May 7, 1972)

"Stanton Macdonald-Wright," A retrospective exhibition, University of California, Los Angeles Art Galleries, Nov. 16 - Dec. 20, 1970

"The Art of Stanton Macdonald-Wright, A Retrospective Exhibition," National Collection of the Fine Arts, Smithsonian Institution, Washington, D.C., May 4 - June 18, 1967

"Roots of Abstract Art in America, 1910-1930," National Collection of the Fine Arts, Smithsonian Institution, Washington, D.C., Dec. 1, 1965 - Jan. 16, 1966

"Synchromism and Color Principles in American Paintings, 1910-1930," M. Knoedler and Co., N.Y., Oct. 12 - Nov. 6, 1965

"1914," an exhibition of paintings, drawings and sculpture created in 1914, in celebration of the 50th anniversary of the Baltimore Museum of Art, MD, Oct. 16 - Nov. 15, 1964

"The Forum Exhibition of Modern American Painters," Anderson Galleries, N.Y., opened Mar. 16, 1916

Published References
"The Forum Exhibition of Modern American Painters," Anderson Galleries, N. Y., 1916, exh. cat. b/w ill.

Milton W. Brown, AMERICAN PAINTING FROM THE ARMORY SHOW TO THE DEPRESSION, Princeton University Press, Princeton, NJ, 1955, p.65

SELECTIONS FROM THE COLLECTION OF HIRSCHL AND ADLER GALLERIES, Vol. IV, New York, 1962-1963, cat. no.42, ill. p.28

DES MOINES REGISTER, Apr. 28, 1963, ill.

DMAC Bulletin, May 1963 (cover ill.)

"1914," Baltimore Museum of Art, 1964, exh. cat. ill. pl. no.135, p.78

George Rickey, CONSTRUCTIVISM, N.Y., 1967, ill. p.106

APOLLO MAGAZINE, Aug. 1967, ill. p.151

H. H. Arnason, HISTORY OF MODERN ART, N.Y., 1968, color ill. pl. no.189, p.419

VISUAL MUSIC, Calendar, B. Schott's Sohne, Mainz, Germany, 1968, color ill.

AMERICAN PAINTING 1900-1970, edited by Time-Life books, N.Y., 1970, color ill. p.45

Barbara Rose, AMERICAN PAINTING IN THE 20TH CENTURY, Skira, N.Y., 1970, color ill. p.17

Edmund Burke Feldman, VARIETIES OF VISUAL EXPERIENCE, Harry N. Abrams, Inc., N.Y., and Prentice-Hall, Inc., Englewood Cliffs, N.J., 1972, color ill. p.159

THE BRITANNICA ENCYCLOPEDIA OF AMERICAN ART, Encyclopedia Britannica Educational Corproation, Chicago, 1973, color ill. p.357

John Russell, "An Alternative Art," in THE MEANINGS OF MODERN ART, Vol. 6, The Museum of Modern Art, N.Y., in collaboration with the Book-of-the-Month Club, Inc., 1975, ref. p.47, color pl. no.3, p.7

Gail Levin, SYNCHROMISM AND AMERICAN COLOR ABSTRACTION 1910 - 1925, George Braziller, N. Y., 1978, checklist ref. p.140, color pl. no.10 (issued in conjunction with an exhibition of same name organized by the Whitney Museum of American Art)

Gail Levin, "Synchronism and American Color Abstraction 1910 - 1925," George Braziller, N. Y., 1978, exh. cat. checklist ref. p.140, color ill. pl. no.10

Janet Funston, "Problems in Synchromism," ARTFORUM, Vol.XVI, No.10, Summer 1978, ref. & color ill. p.58

AMERICA AND ALFRED STIEGLITZ, A COLLECTIVE PORTRAIT, Aperture, Inc., 1979, color ill. pl. no.69

John Russell, THE MEANINGS OF MODERN ART, Harper & Row Publishers, N. Y. in conjunction with the Museum of Modern Art, 1981 (revised edition), color ill. p.161

THE NATHAN EMORY COFFIN COLLECTION, a portfolio of fifty selections from the collection, published by the Des Moines Art Center to commemorate the 50th anniversary of the death of Nathan Emory Coffin, 1981, color ill.

Abraham A. Davidson, EARLY AMERICAN MODERNIST PAINTING 1910 - 1935, Harper & Row Publishers, N. Y., 1981, ref. p.124, ill. p.125, no.63

Gail A. Dristle and Luann W. Glick, LITERATURE (Green Level), McDougal, Littell & Company, Evanston, IL, and Sacramento, CA, 1982, color ill. p.352

Bertram H. Raven and Jeffrey Z. Rubin, SOCIAL PSYCHOLOGY, Second Edition, John Wiley & Sons, N. Y., 1983, cover ills. (front and back)

Edmund Burke Feldman, THINKING ABOUT ART, Prentice-Hall, Inc., Englewood Cliffs, N. J., 1985, cat. index ref. p.459, color ill. no.2-14, p.40

DES MOINES ART CENTER: SELECTED PAINTINGS, SCULPTURES AND WORKS ON PAPER, Des Moines Art Center, 1985, ref. pp.144 & 145, color il

David Manners, AWAKENING FROM THE DREAM OF ME, Non-stop Books, Minneapolis, MN, 1987, cover ill.

Color poster for teaching aid, McDougal Littel Literature Series, Evanston, IL, 1988

Donald Goddard, AMERICAN PAINTING, Hugh Lauter Levin Associates, Inc., 1990, color ill. p.176

ENCYCLOPEDIA BRITANNICA, 1991, color ill. p.618

DMAC News, Nov./Dec. 1991, p.4

Wayne Craven, AMERICAN ART: HISTORY AND CULTURE, Brown and Benchmark Publishers, Madison, WI, 1994, color ill. p.450, pl.30.6

Mike Venezia, AARON COPELAND, Children's Press, Chicago, 1995, color ill. p.13

"Okkultismus und Avantgarde: Von Munch bis Mondrian 1900 - 1915," exhibition catalogue, Schirn Kunsthalle, Frankfurt, 1995, color ill. p.427

THE LANGUAGE OF LITERATURE, McDougal Littell, Arthur N. Applebee & etc., 1996, color ill. p.759

AMERICAN LITERATURE, Vol.II college text, McMichael, Simon & Schuster, Upper Saddle River, NJ, 1999, ill.

H.H. Arnason, "History of Modern Art", Fifth Edition, Prentice Hall, Inc., 2004, pg.384

VISUAL MUSIC: SYNAESTHESIA IN ART AND MUSIC SINCE 1900, Thames & Hudson, 2006, pgs. 45, 232