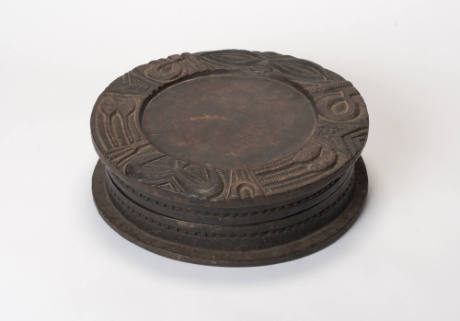 Opon Ifa (Divination Tray)
Dimensions:
Overall: 5 x 16 1/2 in. (12.7 x 41.9 cm.)
Credit Line:
Des Moines Art Center; Julian and Irma Brody African Art Collection, 1980.24.a-.b
Accession number:
1980.24.a-.b
Classification:
African/Oceanic/Pre-Columbian
Label Text
The circular divination bowl is a part of the paraphernalia used by Yoruba oracles to divine the future for their fellow tribesmen. The interior of the container is compartmentalized and lacks ornamentation; the top of the lid is carved in low relief. The countenance of Eshu, the mischievous messengar of the gods, appears several times along with various serpent motifs.The decorative symmetry of the design seems to reflect, in its own way, the Yorubas' belief that divination is order and that the priest or oracle can bring order out of the uncertainty of the future. Source: Bulletin, January-February, 1981.