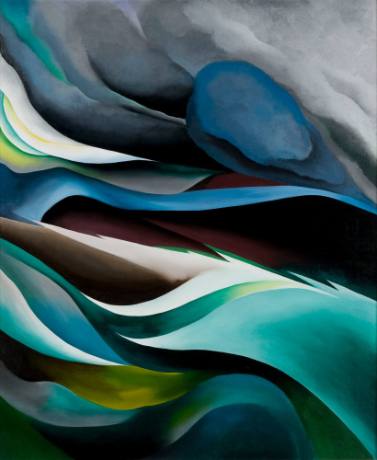 From the Lake No. 1
Dimensions:
Frame: 37 3/8 × 31 3/8 in. (94.9 × 79.7 cm.)
Canvas (/image): 36 × 30 in. (91.4 × 76.2 cm.)
Credit Line:
Purchased with funds from the Coffin Fine Arts Trust; Nathan Emory Coffin Collection of the Des Moines Art Center, 1984.3
Label Text
This painting portrays clouds rolling in over Lake George in upstate New York, where O'Keeffe and her companion, the photographer and gallerist Alfred Stieglitz often vacationed. Although it initially appears to be a completely abstract work, references to the water, sky, and the wooded hills surrounding the lake become apparent on closer examination. The intense colors and swirling shapes suggest the wind and movement of summer storm. Like this painting, much of O'Keeffe's art hovers between abstraction and realistic depictions of the landscape, often in an attempt to capture the transcendent or spiritual qualities she found in nature.

Exhibition History
"Georgia O'Keeffe," 2016, July 2916 - July 2017

"Debating American Modernism: Stieglitz, Duchamp, and the New York Avant Garde," Georgia O'Keeffe Museum, Santa Fe, January 24- April 20, 2003, Des Moines Art Center, Des Moines, IA May 9 - August 1, 2003, Terra Museum of American Art, Chicago, August 29 - November 23, 2003

"Modern Art and America: Alfred Stieglitz and His New York Galleries," National Gallery of Art, January 28 0 April 22, 2001

"Commitment, Community and Controversy: The Des Moines Art Center Collections," Des Moines Art Center, Des Moines, Iowa, January 24, 1998 - May 10, 1998

"The Abstract Tradition in American Art," Des Moines Art Center, December 7, 1991 to February 23, 1992

"Georgia O'Keeffe," organized by the National Gallery of Art, Nov. 1 1987 - Feb. 21, 1988; (Circulated to: Art Institute of Chicago, Mar. 12 - June 26, 1988; Dallas Museum of Art, July 31 - Oct. 16, 1988; The Metropolitan Museum of Art, Nov. 9, 1988 - Jan. 29, 1989)

"Modernist Idylls," Allentown Art Museum, PA, Mar. 8 - May 31, 1987

Published References
DES MOINES ART CENTER: SELECTED PAINTINGS, SCULPTURES AND WORKS ON PAPER, Des Moines Art Center, 1985, ref. p.166, color ill. pl.XXI, p.117

Marilyn J. Fox, "Unique Vision Is Captured in MODERN IDYLLS," READING EAGLE, PA, Sunday, April 5, 1987, ref.

GEORGIA O'KEEFFE: A BOOK OF DAYS, te Neues Publishers, N. Y., 1990, color ill.

WORLD OF LANGUAGE (Grade 7 language arts book), Silver, Burdett & Ginn, 1990, color ill. p.420

Robyn Montana Turner, GEORGIA O'KEEFFE (Portraits of Women Artists for Children), Little, Brown and Company, 1991, color ill. p.19

DMAC News, Nov./Dec. 1991, p.8

SERIPHARB, #16, 4/1991, Thailand Pub., back cover color ill. (Bangkok)

Charles C. Eldredge, GEORGIA O'KEEFFE, Abrams Publishing, N. Y., with The National Museum of American Art, Smithsonian, 1991, color ill. p.53

GEORGIA O'KEEFFE 1992, Cedco Publishing Company, Reno, NV, 1991, color ill.

GEORGIA O'KEEFFE 1993 CALENDAR, Pomegranate Calendars and Books, Petahima, CA, 1992, color ill.

Jin Park, ed., GEORGIA O'KEEFFE MASTERPIECES 1993 ENGAGEMENT CALENDAR, MacMillan with Callaway, N. Y., 1992, color ill.

GEORGIA O'KEEFFE: A BOOK OF POSTCARDS, Pomegranite Artbooks, San Francisco, CA, 1992, color ill.

Gregory Aaron, ed., GEORGIA O'KEEFFE: A POSTCARD BOOK, Running Press, Jersey City, NJ, 1992, color ill.

Elizabeth Montgomery, GEORGIA O'KEEFFE, Brompton Books Corporation, Greenwich, CT, 1993, color ill. p.56

Marina Harrison & Lucy D. Rosenfeld, ART ON SITE: COUNTRY ARTWALKS FROM MAINE TO MARYLAND, Michael Kesend, N. Y., 1994, ref. p.15, b/w ill. p.14

John Reed & Marilyn Rosfeld, Moore Public Schools Art & Music Study Guide I, ArtsCom, Inc., 1996, p.A22

DMAC News, Mar./Apr. 1996, p.2

Susan Manning, "The Finish of Consciousness: Emily Dickenson and Georgia O'Keeffe," PROSPECTS, 1997, pp.419 - 452

AN UNCOMMON VISION: THE DES MOINES ART CENTER, Des Moines Art Center, 1998, ref. p.213, color ill. p.212

Barbara Buhler Lynes, GEORGIA O'KEEFFE CATALOGUE RAISONNE, Yale University Press, New Haven/London; National Gallery of Art, Washington, D. C.; The Georgia O'Keeffe Foundation, Abiquiu, NM, 1999, ref. p.258, ill. no.470

"Nathan Emory Coffin Collection of the Des Moines Art Center," Des Moines, Iowa

Rebecca Foster& Caroline M. Welsh, WILD EXUBERANCE: HAROLD WESTON'S ADIRONDACK ART, Syracuse University Press, May 2005, color ill. p. 92

Laurie Schneider Adams, "Exploring the Humanities, Volume Two", Pearson Education, Inc., 2006, color ill. pg.609

Richard D. Marshall, "Georgia O'Keeffe: Nature and Abstraction", Skira, 2007, color ill. pg. 75

Debra Bricker Balken "Dove, O'Keeffe: Circles of Influence", Sterling and Francine Clark Art Institute, 2009, color ill. plate 23

"Georgia O'Keefe: Abstraction", edited by Barbara Haskell, Whitney Museum of American Art, 2009, color image pg. 91 (plate 80)

"Georgia O'Keeffe", edited by Tanya Barson, Tate Publishing, 2016, color image pg.84

Hannah Johnston "Georgia O'Keeffe", Tate Publishing, 2016, color illl pg.36

"Georgia O'Keeffe", exhibition curator Marta Ruiz del Arbol, D.A.P./Distributed Art Publishers Inc., 2021, color ill. pg. 135

"Georgia O'Keeffe", Under the direction of Didier Ottinger, exhibition at Centre Pompidou, Musee national d'art moderne, Paris, Sep 8 to Dec 6, 2021, color plate. pg. 115