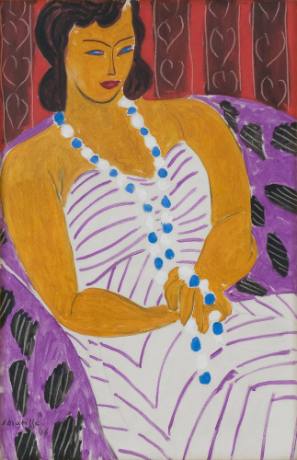 Dame à la robe blanche (Woman in White)
Dimensions:
Frame: 44 3/16 × 31 1/2 × 1 1/2 in. (112.2 × 80 × 3.8 cm.)
Canvas: 38 × 23 3/4 in. (96.5 × 60.3 cm.)
Image (visible): 35 5/8 × 23 1/4 in. (90.4 × 59.1 cm.)
Credit Line:
Des Moines Art Center Permanent Collections; Gift of John and Elizabeth Bates Cowles, 1959.40
Accession number:
1959.40
Label Text
The painting,...,is from Matisse's post war period when he was working in the south of France. Source: Bulletin, November 1959.
Matisse was one of the forefathers of Fauvism, a movement within Modernism known for its expressive use of strong, often non-naturalistic color. Despite the traditional subject matter of this work, it is typical of Matisse's radical approach to painting as it highlights the physical reality of color and shape on a two-dimensional canvas rather than attempting to create an illusion of real space. The patterns on the wall, chair, and dress show Matisse's interest in cut-outs or decoupage, and the woman's refined features resemble an African mask. African, Oceanic, and other non-Western art objects were a strong influence on Matisse, as well as many other Modernists.

Signed
H. Matisse 46 (l,l oil paint)

Exhibition History
"Posing Modernity: The Black Model from Manet to Matisse to Today", Wallach Art Gallery, Columbia University, Oct 24, 2018 - Feb 10, 2019

"Le Modele Noir", Musee d"Orsay, March 26 - 21 July, 2019

"Selected Cowles Family Gifts to the Permanent Collection," Des Moines Art Center, July 30 - Sept. 11, 1994

"Highlights from Three Collections: The Bohen, Coffin and Cowles Collections," Des Moines Art Center, July 8 - Sept. 11, 1983

"Art in Western Europe: The Postwar Years 1945 - 1955," Des Moines Art Center, Sept. 19 - Oct. 29, 1978

"Gifts of John and Elizabeth Bates Cowles," Des Moines Art Center, (on view in north Blank Gallery during opening of the new wing), Oct. 4 - Nov. 5, 1968

"Communicating Art from Midwest Collections," Des Moines Art Center, Oct. 13 - Nov. 6, 1955

"The Art of Henri Matisse," The Society of the Four Arts, Palm Beach, Feb. 6 - Mar. 1, 1953

Published References
VERVE, Vol. 6, no. 21 and 22, Paris, 1944-1948, ill.

Alfred H. Barr, Jr., MATISSE - HIS ART AND HIS PUBLIC, Museum of Modern Art, N.Y., 1951, ref. p.275

"The Art of Henri Matisse," The Society of the Four Arts, Palm Beach, 1953, exh. cat. no.26

"Communicating Art from Midwest Collections," Des Moines Art Center, 1955, exh. cat. no.55, ill.

DMAC Bulletin, Nov. 1959, ill.

NEW YORK TIMES, SUNDAY BOOK REVIEW SECTION, July 12, 1959, ill.

"Art In Western Europe: The Postwar Years 1945 - 1955," Des Moines Art Center, 1978, exh. cat. no.36, color ill.

DES MOINES SUNDAY REGISTER, Apr. 17, 1983, color ill.

DES MOINES ART CENTER: SELECTED PAINTINGS, SCULPTURES AND WORKS ON PAPER, Des Moines Art Center, 1985, ref. p.150, color ill. pl.XIX, p.115

DMAC News, July/Aug. 1994, p.2

AN UNCOMMON VISION: THE DES MOINES ART CENTER, Des Moines Art Center, 1998, ref. p.184, color ill. p.185

"Letters from John Cowles to his Family, 1943-1976; 1945", edited by Elizabeth Ballantine, Durango Herald Press, 2003, cover image

"Posing Modernity: The Black Model from Manet and Matisse to Today", publ. Musee d'Orsay/Paris, 2018

"Le Modele Noir", publ. Musee d'Orsay/Flammarion, 2019, p. 332, Illus. p. 261, full citation - pg. 357