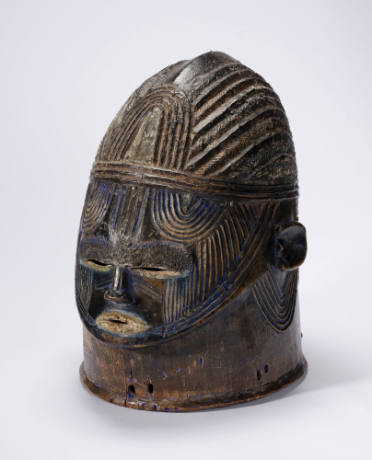 Mask
Medium:
Wood, metal, pigment, charring
Dimensions:
Overall: 12 1/4 x 10 3/8 x 8 3/4 in. (31.1 x 26.4 x 22.2 cm.)
Credit Line:
Des Moines Art Center; Julian and Irma Brody African Art Collection, 1978.28
Accession number:
1978.28
Classification:
African/Oceanic/Pre-Columbian
Label Text
This is a helmet mask used by the Igala tribe who are situated near the confluence of the Benue and Niger Rivers. The bullet-shaped head and headdress have been deelpy carved with parallel markings. A herring bone motif has been cut in the headdress and each curved row of decorative hair patterning re-enforces and re-emphasizes the general shape of the mask. The facial markings and those under the ears and behind the head are deeper and more prominent. As the light falls acrodd the carved areas, the contrast of highlights and shadows imparts a feeling of strength and power to the mask. Source: Bulletin, March-April, 1979.

Exhibition History
"Commitment, Community and Controversy: The Des Moines Art Center Collections," Des Moines Art Center, Jan. 24 - May 10, 1998

"African Art from the Collection of Julian and Irma Brody," Des Moines Art Center, Mar. 18 - Apr. 20, 1975

Published References
"Immagine del Museo negli Anni '80," BOLLETTINO D'ARTE (Supplemento) published by the Ministero per i Beni Culturali e Ambientali, Rome, 1982 (Four works from the Des Moines Art Center collection and view of south facade of Pei wing reproduced to illustrate the article/ talk "Collection (sic) of 20th Century Italian Art in the United States" by James T. Demetrion, pp.67 - 73, ill. p.72, delivered 1981)

"African Art from the Collection of Julian and Irma Brody," Des Moines Art Center, 1975, exh. cat. no.59, ill.

AN UNCOMMON VISION: THE DES MOINES ART CENTER, Des Moines Art Center, 1998, ref. p.319, color ill. fig.2, p.318

DMAC Bulletin, Mar./Apr. 1979, cover ill.