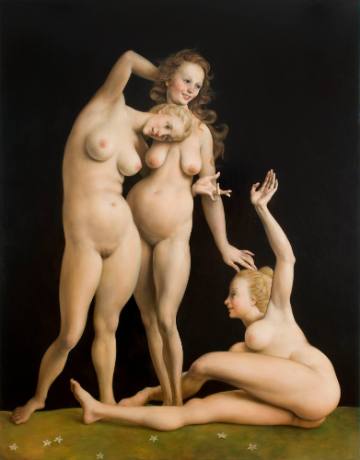 Three Friends
Dimensions:
Canvas: 78 × 61 in. (198.1 × 154.9 cm.)
Credit Line:
Purchased with funds from the Coffin Fine Arts Trust and partial gift of Wendy Evans Joseph in memory of her late husband Peter T. Joseph and his passion for ballet; Nathan Emory Coffin Collection of the Des Moines Art Center, 2001.27
Accession number:
2001.27
Label Text
This painting recalls Mannerist painting of the sixteenth century, characterized by figures with elongated limbs, complex posture, and intricate composition, as well as the voluptuous pinups of the 1940s and 50s illustrated by Alberto Vargas. The women also reference the three graces of Greek mythology, Zeus's daughters Aglaria, Euphrosyne, and Thalia who were the personifications of beauty, gentleness, and friendship. "Honestly, it's always me remembering an old master and combining it with contemporary ad image," says Currin. "Those are the two things that compel me." This synthesis of the historical and the modern gives the painting an edgy quality, paradoxically impressive with its mastery of the medium and classical subject, yet unseemly with its cheesecake eroticism. Three Friends simultaneously celebrates and challenges the traditional role of the female nude as an object of desire in art.

Signed
John Currin 1998 (u,l verso)