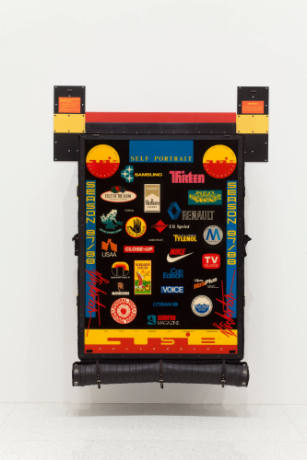 Tormented Self-Portrait (Susie at Arles) No. 2
Dimensions:
Overall: 90 x 68 1/2 x 20 in. (228.6 x 174 x 50.8 cm.)
Credit Line:
Des Moines Art Center Permanent Collections; Purchased with funds from the Edmundson Art Foundation, Inc., 1994.334
Accession number:
1994.334
Classification:
sculpture
Label Text
Bickerton was born in 1959 in Barbados, West Indies, and has lived and worked in New York. In 1982 he received his B.F.A. from the California Institute of Arts, and in 1985 he completed the Whitney Museum Independent Studies program. Most of his work is three-dimensional. For four years in the early 1980s Bickerton was the studio assistant for the painter, Jack Goldstein. Source: News, May June 1995
Although this work is titled as a self-portrait, it does not depict a traditional image of the artist. Instead, Bickerton represents himself as the sum of the products he consumes and the organizations with which he associates himself. By explicitly using the marketing logos of his favorite things, he affiliates himself with corporate branding. The ubiquity of advertising is normal to today's society, and most of these logos are instantly recognizable, but this work also strongly reflects the 1980s, when corporate images first seeped into almost every aspect of culture. Tormented Self-Portrait addresses the product the artist himself makes as well — the art object. The vinyl, handles, and pockets mock art handling equipment, and acknowledge the fact that art is often sold and moved many times over. Bickerton also includes his own logo along each side, with his name and "87/88", branding the sculpture as a product of that particular art-world market season.

Exhibition History
"Identity Crisis: Self-Portraiture at the End of the of the Century," Milwaukee Art Museum, WI, September 12-November 16, 1997

"The American Century: Art and Culture 1900-2000 (Part II), Whitney Museum of American Art, Sept. 23, 1999 - Feb. 29, 2000

Published References
Dean Sobel, "Identity Crisis: Self-Portraiture at the End of the Century," Milwaukee Art Museum, 1997, exh. cat. no.3, color ill. p.20 & 21

DMAC News, May/June 1995, ref. p.3, ill. front cover

AN UNCOMMON VISION: THE DES MOINES ART CENTER, Des Moines Art Center, 1998, ref. p.59, color ill. p.58