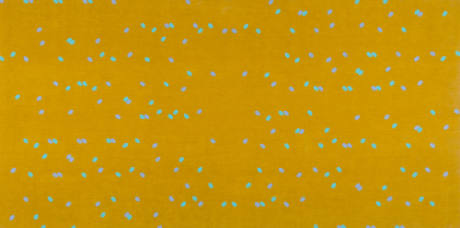 Han-San Cadence
Medium:
Acrylic and fabric dye on canvas
Dimensions:
Canvas: 72 1/2 × 144 7/8 × 2 5/16 in. (184.2 × 368 × 5.9 cm.)
Credit Line:
Purchased with funds from the Coffin Fine Arts Trust; Nathan Emory Coffin Collection of the Des Moines Art Center, 1970.19
Accession number:
1970.19
Label Text
According to Poons, the title of the painting is a reference to the Chinese recluse poet Han-shan ... whose exact dates are uncertain, but who probably lived in the late seventh and early eighth centuries during the T'ang Dynasty. In the AC painting, brilliant green and blue ellipses are arranged across the canvas in a manner recalling notes on a musical scale. The artist's original training was as a musician. The tightly controlled composition of Han-San Cadence gives way rapidly before the viewer's eye as the ellipses of bright color appear to jump and hang suspended in front of the canvas; in addition, elusive after-images dance about the canvas and even onto the adjacent wall on which the painting hangs. At first glance, one is inclined to believe that the studied control which is so apparent in the work is the direct antithesis of Jackson Pollock's and Willem de Kooning's Abstract Expressionism. However, the large scale of the painting, the all-over composition, and the uncontrollable, accidental movement of the after-images relate Han-San Cadence to the Action Paintings of the preceding generation. Source: Bulletin, March-April 1971.

Signed
L. Poons (verso u,l stretcher bar acrylic paint)

Inscription
UP 1963 (verso u,l stretcher bar acrylic paint)
Han-San Cdence (verso c,l stretcher bar acrylic paint)

Exhibition History
"The Abstract Tradition in American Art," Des Moines Art Center, Dec. 7, 1991 - Feb. 23, 1992

Extended Loan, Walker Art Center, Minneapolis, MN, Oct. 7, 1983 - Nov. 7, 1984

"Miro in America Exhibition," Museum of Fine Arts, Houston, TX, Apr. 21 - June 22, 1982

"The Great Decade of American Abstraction - Modernist Art 1960 to 1970," Museum of Fine Arts, Houston, TX, Jan. 15 - Mar. 10, 1974

"Painting in New York: 1944 to 1969," Pasadena Art Museum, CA, Nov. 24, 1969 - Jan. 11, 1970

"VIII Sao Paulo Biennial," American Section, Brazil, Sept. 4 - Nov. 28, 1965; (Circulated to: Washington D.C., National Collection of Fine Arts, Jan. 27 - Mar. 6, 1966)

Published References
William Fleming, ARTS AND IDEAS, Holt, Rinehart and Winston, Inc., N.Y., 1974, ref. p.414, color ill. pl. no.81, p.430

MUSEUM NEWS, June 1971, ill. p.8

DES MOINES REGISTER, Sept. 4, 1970, ill. p.22

John Coplans, "Larry Poons," ARTFORUM, vol. 3, June 1965, ill. p.35

ARTS, vol. 38, Jan. 1964, ill. p.31 (review by Jane Harrison)

Richard B. Norman, ELECTRONIC COLOR: THE ART OF COLOR APPLIED TO GRAPHIC COMPUTING, Van Nostrand Reinhold, N. Y., 1990, color ill. p.41, Fig.2.36

DES MOINES ART CENTER BULLETIN, Mar./April 1971, cover ill.

Max Kozloff, "Young Abstraction in America," in RENDERINGS: CRITICAL ESSAYS ON A CENTURY OF MODERN ART, Studio Vista Ltd., London, 1970, ref. p.278, ill. fig.19, (Artical originally appeared in "The Nation," Feb. 28, 1966)

Jean Lipman & Helen M. Franc, BRIGHT STARS - AMERICAN PAINTING AND SCULPTURE SINCE 1776, E. P. Dutton and Co., Inc., N.Y., 1976, color ill. p.183

THE NATHAN EMORY COFFIN COLLECTION, a portfolio of fifty selections from the collection, published by the Des Moines Art Center to commemorate the 50th anniversary of the death of Nathan Emory Coffin, 1981, b/w ill.

Barbara Rose, AMERICAN ART SINCE 1900, Praeger, N.Y., 1967, color ill. p.233

"Painting in New York: 1944 to 1969," Pasadena Art Museum, CA, 1969, exh. cat. no.34, color ill. p.42

AN UNCOMMON VISION: THE DES MOINES ART CENTER, Des Moines Art Center, 1998, ref. p.225, color ill. & b/w detail p.224

"New Talent USA," ART IN AMERICA, Vol.52, Aug. 1964, color ill. p.104

"The Great Decade of American Abstraction - Modernist Art 1960 to 1970," Museum of Fine Arts, Houston, TX, 1974, exh. cat. no.41, color ill. pl.10, p.29

DES MOINES ART CENTER: SELECTED PAINTINGS, SCULPTURES AND WORKS ON PAPER, Des Moines Art Center, 1985, ref. pp.175 & 176, b/w ill. pl.113, p.175

VIII Sao Paulo Biennial, American Section, Brazil, 1965, exh. cat. no.35

"Miro In America," Museum of Fine Arts, Houston, TX, 1982, exh. cat. checklist