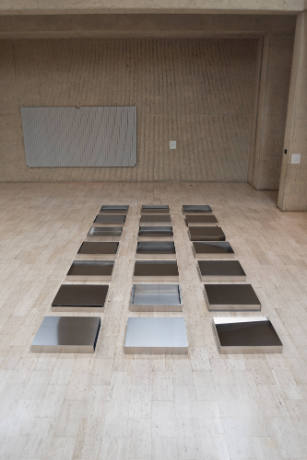 Untitled
Dimensions:
Other (box): 4 x 27 x 23 in. (10.2 x 68.6 x 58.4 cm.)
Overall: 4 x 108 x 230 in. (10.2 x 274.3 x 584.2 cm.)
Credit Line:
Purchased with funds from the Coffin Fine Arts Trust; Nathan Emory Coffin Collection of the Des Moines Art Center, 1987.7.a-.u
Accession number:
1987.7.a-.u
Classification:
sculpture
Label Text
In keeping with Minimalist principles, the floor piece, Untitled is made of a series of 21 stainless steel units. Each unit is varied individually in relation to its own dimensions as well as remaining a measured part of the overall size and shape of the piece. Born in Missouri, Donald Judd studied at Columbia and the Art Student League in New York. In the early 1960s he began making three-dimensional objects. He began using metal in addition to wood in the mid-sixties because of the greater precision inherent in this medium. Source: News, January February March 1988.
Judd was not only one of the pioneering artists of Minimalism, but a theorist who defined many of the movement's convictions. Rather than traditional painting or sculpture, he was interested in creating elemental structures that referenced only themselves and were closely related to the space they occupied. Untitled emphasizes the flat space of the floor, and the viewer must confront the work as an object that shares his or her immediate environment. Each unit of Untitled has the same measurements, although there are variations that underscore different internal dimensions of the square, as well as the effects of light on stainless steel. Typical of Judd's approach, the only subjects Untitled explores are its own formal qualities.

Exhibition History
"The Abstract Tradition in American Art," Des Moines Art Center, Dec. 7, 1991 - Feb. 23, 1992

Published References
AN UNCOMMON VISION: THE DES MOINES ART CENTER, Des Moines Art Center, 1998, ref. & b/w detail p.150, color detail p.151

Des Moines Art Center Collects, Des Moines Art Center, 2013, ref. & color detail, pg. 234, color image pg.235